So your company is using Chili Piper Concierge, but what is it, and how does it affect you?
Concierge is an online scheduler that easily integrates with any existing web form.
Once a prospect submits a form, Concierge automatically qualifies the lead, routes to the correct salesperson, and displays a simple self-scheduler for them to instantly book a time - all in a matter of seconds.
Your company will convert 2x as many inbound demo requests into held meetings when they schedule leads when their intent is highest. That means double the amount of pipeline generated from your existing web traffic.
This means more meetings booked, and deals closed for you! You just have to sit back and see the meetings get booked on your calendar.
---
Setup Chili Piper
Sign in with CRM first for initial login!
Then log in with your email provider (Google or Office365)
One of the best ways to start booking meetings is through the chrome extension. Think of this as your "hub".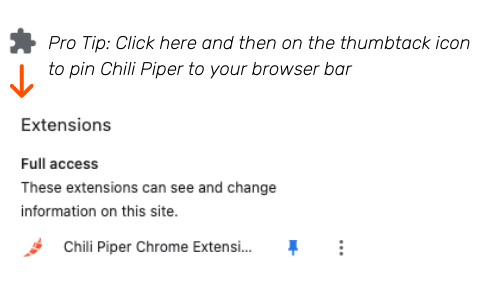 Set up your personal details

- to automatically customize your meeting invite templates with your info

Add your personal video conferencing link to Conference Details
If your company is using Live phone and video call routing be sure to

Verify

your phone number

Set your working hours - to ensure no one books with you too early or too late
Connect your integrations - CRM, Email, Video Conferencing
---
FAQ
Q: How does Concierge know my availability?
A: Based on your Calendar Availability plus Working Hours. That means, any event on your calendar marked as "busy" will be blocked from Chili Piper. Pay attention to all-day events that sometimes default to being "available".
Q: Will I be get scheduled outside of working hours?
A: No, we respect the working hours you set under personal settings.
Q: How does Chili Piper know how to route the lead?
A: Your rockstar admin set rules to look at things like company size, territory, industry, ownership etc. depending on how you route leads.
Q: How do I know that I received a meeting?
You'll receive an email notification from noreply@chilipiper.com and an appointment will be created on your calendar, sent to the external guest. Should you have this happen unexpectedly, double check your personal integrations to make sure your calendar is showing as connected.
If your team uses Slack and your admins have integrated your Chili Piper account, you'll receive a slack notification from the ChiiBot app.
Finally, Chili Piper will create an event in your CRM related to your Lead or Contact, assigned to you as the Assignee.
Q: How do I reschedule a meeting?
A: If you are the "organizer" of the meeting, that meeting will be owned by you and you can treat it just like any other calendar event.
You can also use the meeting rescheduling link, or supply that to your customer/prospect so that they can choose a new time, if needed. When using the meeting rescheduling link, any meeting buffers will be updated automatically.

Q: How do I mark a meeting as a No Show?
A: You can do so using the No Show toggle in the calendar event (chrome extension required; supported only with Google Calendar), in your personal Chili Piper Dashboard, or in the Salesforce event activity (if button added).
---
Your company can also enable Live video and phone calls to connect a lead to a sales rep instantly rather than scheduling. There are some extra things to know for Concierge Live. Find out here.