By setting up this integration with your Campaign Monitor account, here's what you can do:
Schedule meetings from Campaign Monitor emails
Prospects book in 1-click, no form fill required
Route meeting to SFDC Lead/Contact Owner
Log details directly in SFDC & Campaign Monitor
Integrating Chili Piper Booking Links into Campaign Monitor
Including a calendar link in your email campaigns can receive a substantial boost in conversion rates.
To do this, let's first open up a Campaign Monitor email. Assuming you've built the email, let's add a button to the Chili Piper booking link similar to the picture below: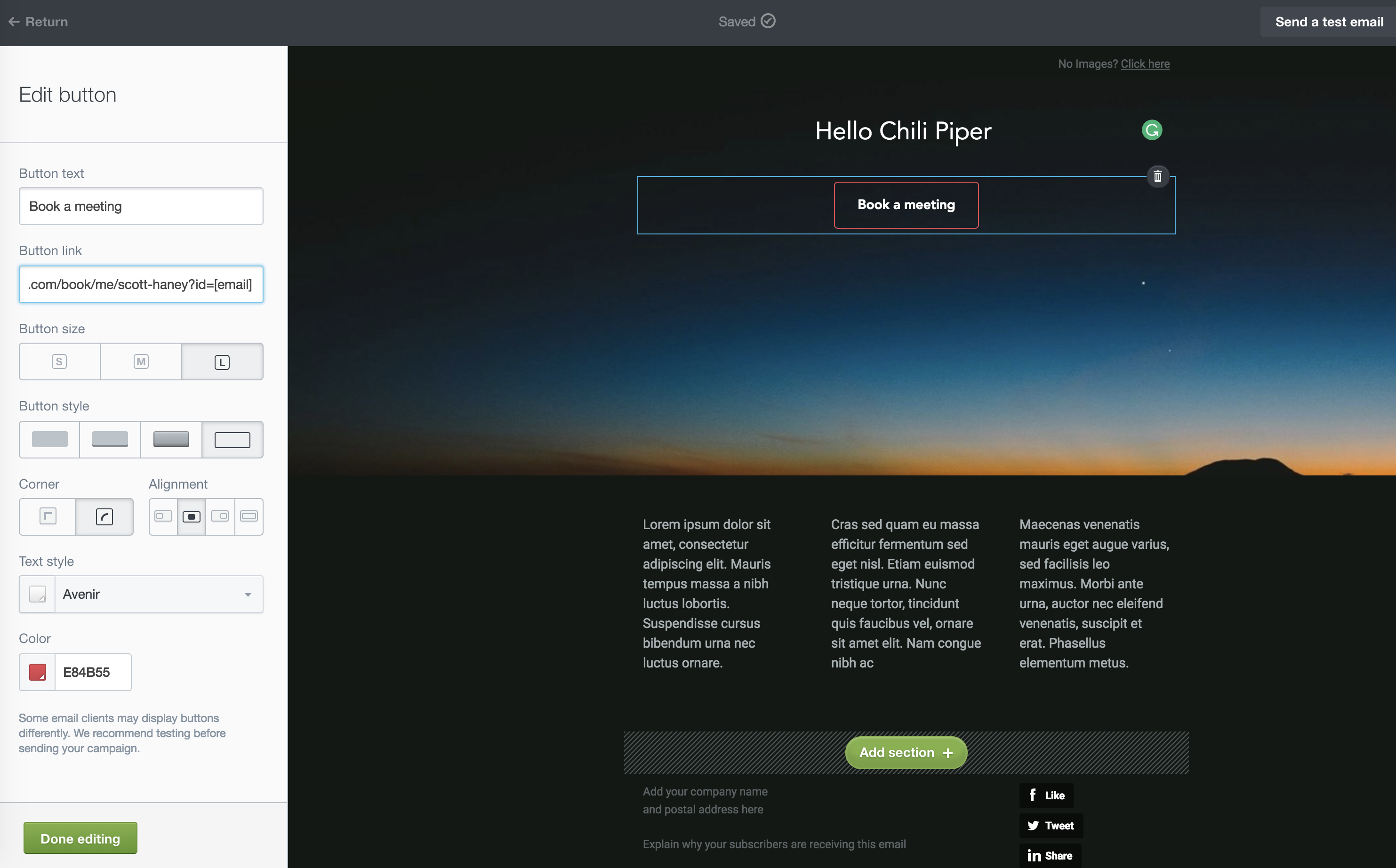 Click the link and add the Chili Piper team or personal booking link like below:
https://calendar.chilipiper.com/book/me/scott-haney?id=[email]
What we're doing here is appending the email address of the prospect to the Chili Piper link via a contact personalization field. The contact personalization tag for an email address is indicated by [email]. This allows the prospect to book a meeting in 1-click; no form fill is required.
Once example@domain.com gets the email, he/she magically books a meeting with Scott in 1-click and receives a calendar invite, no form was filled, Scott receives notification that a meeting was booked, and all the details logged directly into Salesforce.
Note: Smart Booking Links work with individual calendar URL's & Queue URL's. Suppose your Queue uses the "Prioritize Based on Ownership" algorithm. You're able to utilize 1 URL for all your MailChimp emails, which route the meeting to the respective Salesforce lead/contact/account owner using the Salesforce ownership rules you define.