Chili Piper's Outlook Add-In enables you to book meetings with prospects directly from within your O365 email.
In this section, we'll show how you can either book directly with the customer or suggest available times that they can then book themselves.
Note: We have depreciated support for Internet Explorer 11-based versions of Outlook Desktop. Please ensure you are using the most up-to-date version of Outlook using Edge browser integration, or you may be unable to utilize the add-in.
---
Install the Outlook Add-in
For a step-by-step guide on installing our Outlook Add-in, head to this article.
Once it's been installed properly, you will see the Chili Piper options when you click the "three dots" on the email editor/reply window:

---
Book directly from an email
Clicking on the "three dots" icon will give you the option to open up Instant Booker, allowing you to book a meeting for yourself or others directly from the email with the customer emailing you already filled in.
Available from the email body (not while you are writing a new email or replying via the editor)
To do this, click the "three dots" button directly from the body of the email:
---
Suggest available times
If you would like to propose times for the customer and allow them to book the meeting in a time convenient to them.
Available either while writing a new email, or while replying to a customer.
To do this, click the "three dots" icon and then use Instant Booker to "Suggest Chili Piper button directly from the email editor while replying or sending an email to a prospect, and the calendar will pop up - just select several slots and choose "Insert Availabilities":
This will show up in the body of your email along with the option to view the full calendar.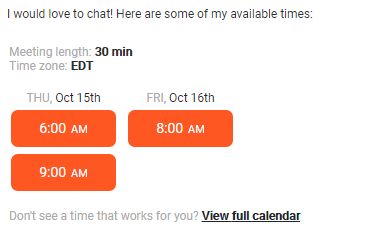 ---
Good to know
If suggested time slots are no longer available, Chili Piper will automatically suggest new times instead.
Within the Instant Booker, you can choose the language that the suggested times are displayed in by selecting an option in the top right.
If you invite additional guests to your meeting, everyone will be invited in one click.