Our Instant Booker integrates with the following systems to enable you to quickly and easily schedule meetings with one click! Be sure to have our Chrome Extension installed before reading on.
Note: Handoffs are available in our "Handoff" workspace type only and are denoted by a fire icon:

We'll show you where to find the Chili Piper Instant Booker icon within:
---
Salesforce
Our robust Salesforce integration makes it easy to measure and improve your appointment booking and lead conversion with automated reminders and custom fields for advanced triggers that a Salesforce administrator can set up!
Track every stage of the meeting process, including bookings, meetings held, no-shows, reschedules, and cancellations.
Found above the email on a Lead/Contact record (more on booking a meeting in Salesforce):

The icon can also be found within the integrated email composer in Salesforce as well: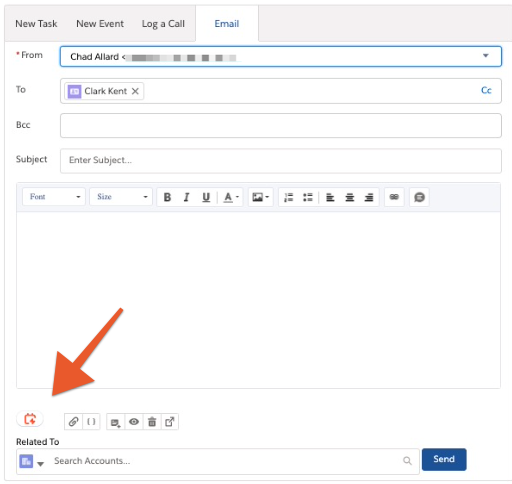 ---
HubSpot CRM
In HubSpot CRM, the Instant Booker app will appear on the right-hand side of the Contact.

Click the "Book" button to open the Instant Booker with this Contact selected as the guest.
---
Gmail
When used in Gmail, this enables one-click booking, and inserting suggested times directly into your emails.
Found either within an email thread, if a time is known:

Or, within an email to send Suggested Times: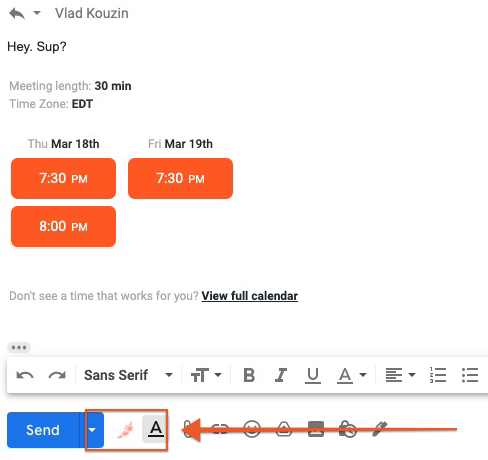 ---
Outlook
With our Outlook add-in, you can find the Chili Piper Instant Booker icon in a number of places, including on the body of an email, in the email editor when replying, and through the plugin list:

---
Chrome Extension
When you click on the Chrome Extension's icon, then while on the Booking tools tab, you will be able to launch the Instant Booker after typing a prospect's email and choosing "Book":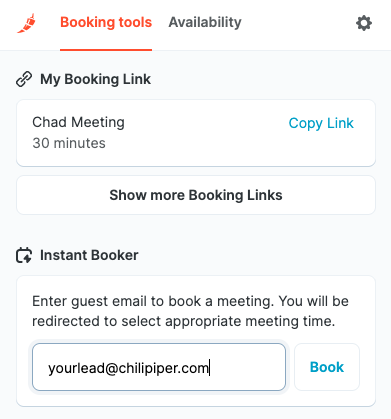 We recommend "pinning" the extension to your Chrome's toolbar for quick access.

---
SalesLoft
You can quickly open Instant Booker to schedule an appointment directly from the prospect's page within SalesLoft:

---
Outreach
You can accelerate revenue and automate scheduling directly in Outreach by integrating Instant Booker. Click the Instant Booker icon directly on the prospect's overview page, or from within an email:

---
Custom Salesforce Button
The Instant Booker can also be launched through a custom button you create and add to your Salesforce record. See how to create and add this custom button here.