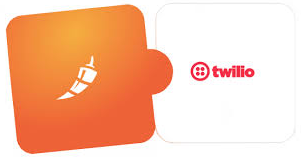 With Chili Piper's Twilio Integration, you can instantly start a phone call through your web forms and qualify prospects on the spot. Before meetings, you can automatically send customizable SMS reminders to help reduce no-shows.
Key Features include:
Connect Calls on any Device

Easily validate your phone number and receive phone calls on all mobile devices and business phone systems.

Real-Time Call Routing

With the Chili Piper Twilio Voice integration, you can start real-time phone calls with leads that request a call upon form submission.

Autodial upon Form Submission

Want the world's fastest speed to lead? Call prospects in real-time immediately upon submitting a web form.

International and Domestic Numbers

Route and receive phone calls and SMS messages with Twilio's support for International and Domestic phone numbers.

SMS Reminders

Automatically send customizable SMS reminders before a call and improve your meeting show rates.

SMS Response Handling

Manage SMS replies from recipients and optionally send customizable follow up
Learn more about getting started with SMS reminders here and the relevant articles linked below.