To ensure that your prospects have a seamless and efficient booking experience, you will want to ensure that your Personal Settings are updated, and that the necessary integrations are connected.
In this article, we go through several steps:
---
Authenticate with Chili Piper
Login via your CRM of choice first and then Google/Outlook to activate your Chili Piper account.
Once you are in you will be either on the Admin or Personal dashboard, depending on your access level.
---
Install the Chrome Extension
Chili Piper lives as an extension within your CRM and Email system. In order to utilize Chili Piper to its fullest, you will need to install our custom Chrome Extension.
We'll prompt you to do this via the pop-up banner when you login but or you can get it here.
---
Make sure your calendar is connected

Pro Tip: be sure to keep your calendar up to date!
You can learn about how Chili Piper sees your calendar availability, and how this will reflect to customers and team members here.
---
Grab your personal booking link
Copy your calendar link from your Booking Links page in Chili Piper, or generate a new one. You can also find this link whenever you need it by clicking on the Chili Piper Chrome Extension icon.
On the Booking links page: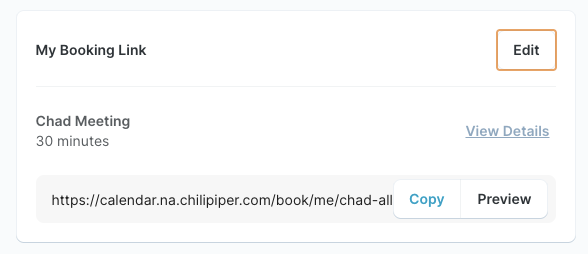 On the Chrome Extension:

---
Set your Personal Details
You can update your Personal Details in Chili Piper by clicking on your name / profile photo in the lower left of the Chili Piper app and choosing the Personal Details page, or head there directly by clicking here.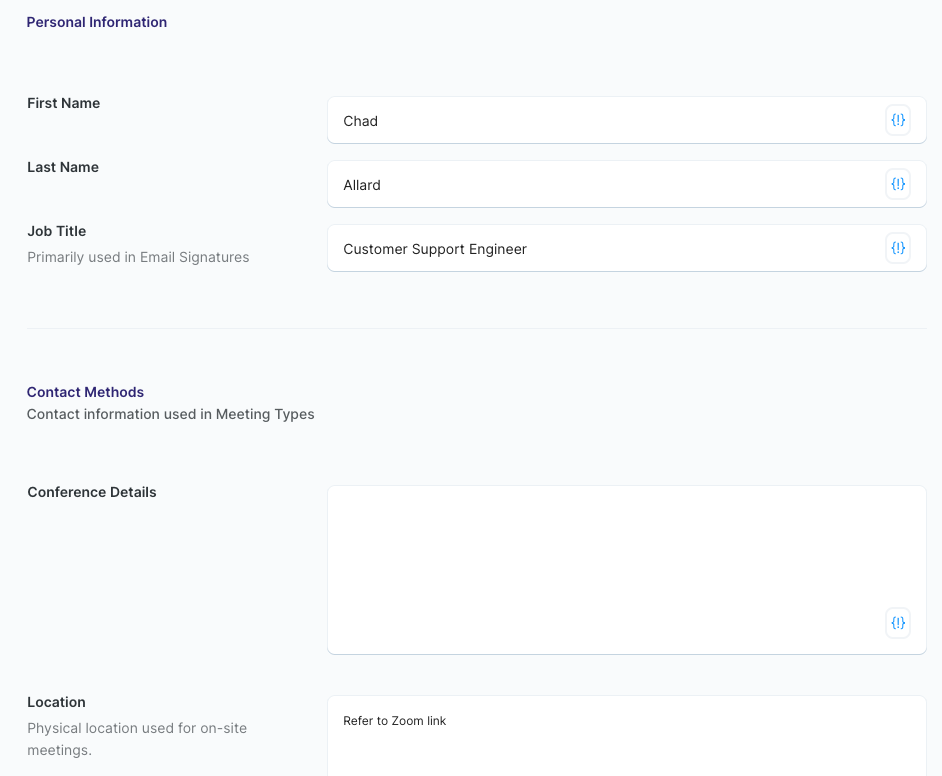 Make sure you fill these out so we can pre-populate Meeting Templates with your details. If your team is using Concierge Calls, you will need to verify your phone number before you can receive calls.
---
Adjust your Working Hours
Your Working Hours are independent of the working hours set in your Google or Outlook, learn more about working hours here.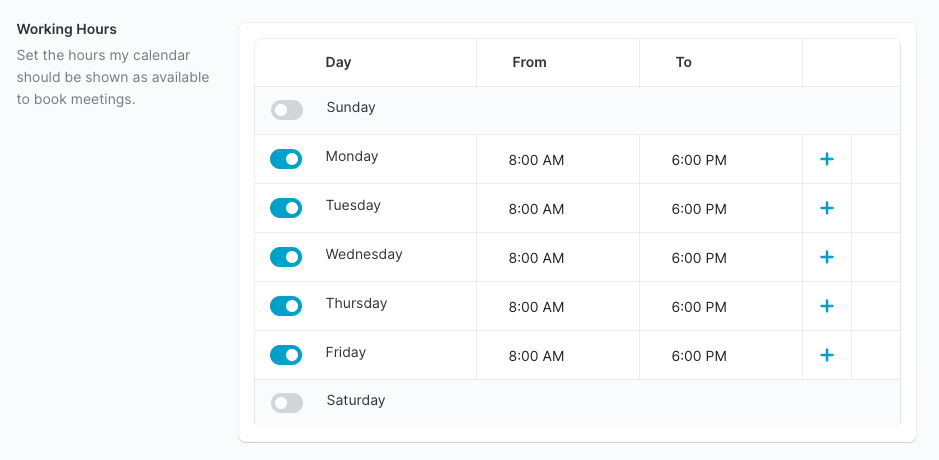 ---
Set default Instant Booker settings
Under the Instant Booker settings page, choose whether you want to book meetings mostly for yourself, or booking meetings for the team (depending on the Workspace):

Team Calendar: If you are SDR/BDR you primarily scheduled meetings on behalf of others will be booking meetings into a Round Robin Queue - choose this option to be presented with the team's calendars first.
My Calendar: If you primarily schedule meetings for yourself (usually Account Executives, Customer Success Managers, Account Managers, etc) we will assume your are booking on My Calendar - choose this option
Learn how to book meetings through Instant Booker here.
---
Update your Meeting Types
Navigate to your personal "Meeting Types" tab, and learn how to customize these here.
To choose the default template associated with your personal booking link, be sure to set this on the Booking Links page here.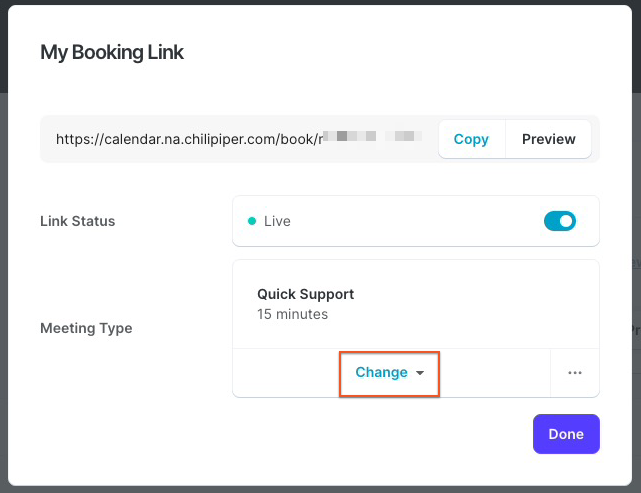 ---
Review your Meeting Reminders
Learn how to customize them here.
---
Integrate a Conferencing App (optional)

Choose the app your team is using an hit 'Connect'
Note: you might need to 'request' access depending on the permissions your team's account has set up. If this is the case, your admin will receive an email to authorize approval.