A lead, contact, or account can be routed directly to a rep based on region. This can be done by establishing rules in your queues (Open workspace, Assigned Meetings - Queues) based on pre-existing fields in your Salesforce instance.
Similarly to all other queues explained in the Introduction to Queues, you are able to choose between Flexible, Strict, or a combination round robin.
Step 1
Establish queues based on region and assign each region with the appropriate team members.
Step 2
Per each queue, establish if you'd like to use a strict or flexible round robin.
Step 3
Based on fields set up in your Salesforce instance, create rules based on region for each of the following areas:
Related Account
Related Contact
Related Lead
Step 4
Activate your queue!
Example
We establish two separate queues: 1 for Team USA and 1 for Team International with their corresponding team members assigned
USA Inbounds: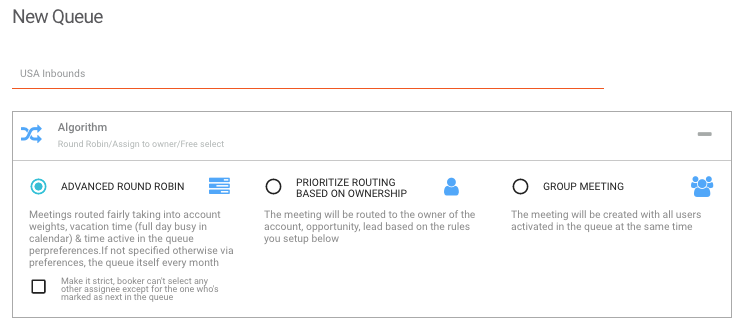 and Non-USA Inbounds: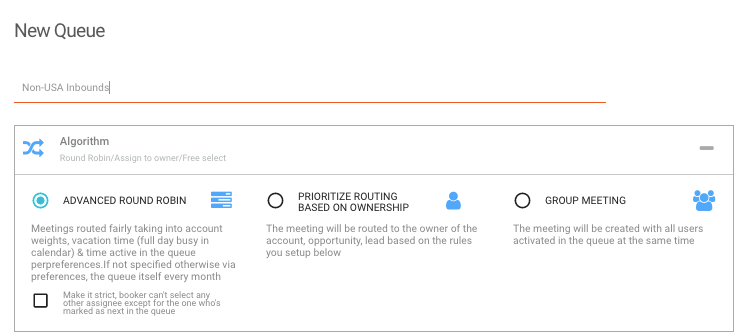 Here is our Non-USA territory Queue:

Here are the rules in our USA territory queue:


These queues can be enabled on your Router for inbound lead distribution via Concierge or used for SDR to AE Handoff via Instant Booker.