There are 3 different types of Meeting Workspaces you can create in Chili Piper. Master admins are able to create as many workspaces within your account as you need, based on your license types.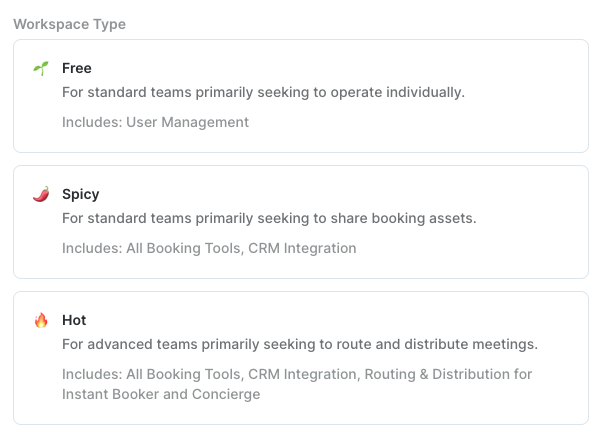 ---
Meetings
For Sales, Customer Success, Marketing Teams connected to Salesforce - you can create as many of these as needed to organize your teams.
Free - User Management only. Free workspaces may act as a "placeholder" for free users who were previously in a Hot or Spicy workspace, however this is not required. As free users can't access team workspaces, these are for user management.
Spicy - For teams looking to share booking assets such as booking links, and to group these teams into a common workspace for Instant Booker. Group booking links supported.
Hot - For advanced teams looking to route and distribute meetings or use meeting queues. Primary use is with Instant Booker (queues) and Concierge routing.
---
Events
Coming soon! For pre-event scheduling for Conferences and Trade shows.
---
Managing Workspaces
To manage your workspaces, click the "Manage" button on the admin center. For more information on this, see our related article.