The Admin Center is your Chili Piper home base. This allows admins to access different products and organizational settings such as user management, integrations, our API references and eventually billing (currently being built out). It is currently only accessible by Super Admins of your Chili Piper account. 
In this article we will walk through the Admin Center, including:
---
Admin Center Navigation

Left Sidebar Navigation
In the upper left sidebar (above), you will be able to access different settings within admin center. The controls in this sidebar will collapse as you navigate to different screens. If you ever need to return to the admin center, click the home icon on this sidebar and you will be returned to the main home screen.
Apps Switcher 
Next up is our App Switcher, where you can quickly access any of your Chili Piper products. We have Meetings, where you'll find all of your current scheduling workspaces. along with Events and our two newest products currently in beta; Inbox and Calendar. The App Switcher is accessible from any screen in Chili Piper. Click this button and navigate to Meetings to be taken to your personal settings for Meetings.
The App Switcher is also where you can access the Admin Center from any part of our app.
As an admin, you'll always see the full list of available products, where you can access purchased products and request access to additional products but your team will only see products that you currently have purchased under your account.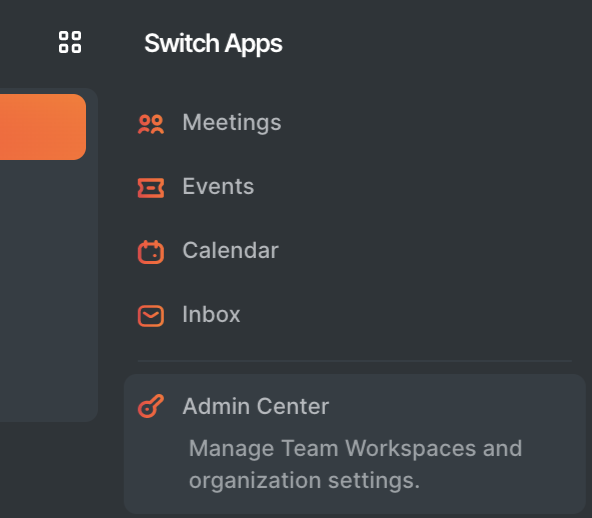 Profile Details
Click your name takes you to your Personal Details, so you can update your Name, Conference Details, Location, Title, or verify your Phone. From this screen, you can also navigate to Integrations and connect additional apps such as Salesforce, Zoom, GoToMeeting, Webex, and your Calendar (should you need to reconnect it). The integrations listed here are at the individual-level so this will be different for every user on your account.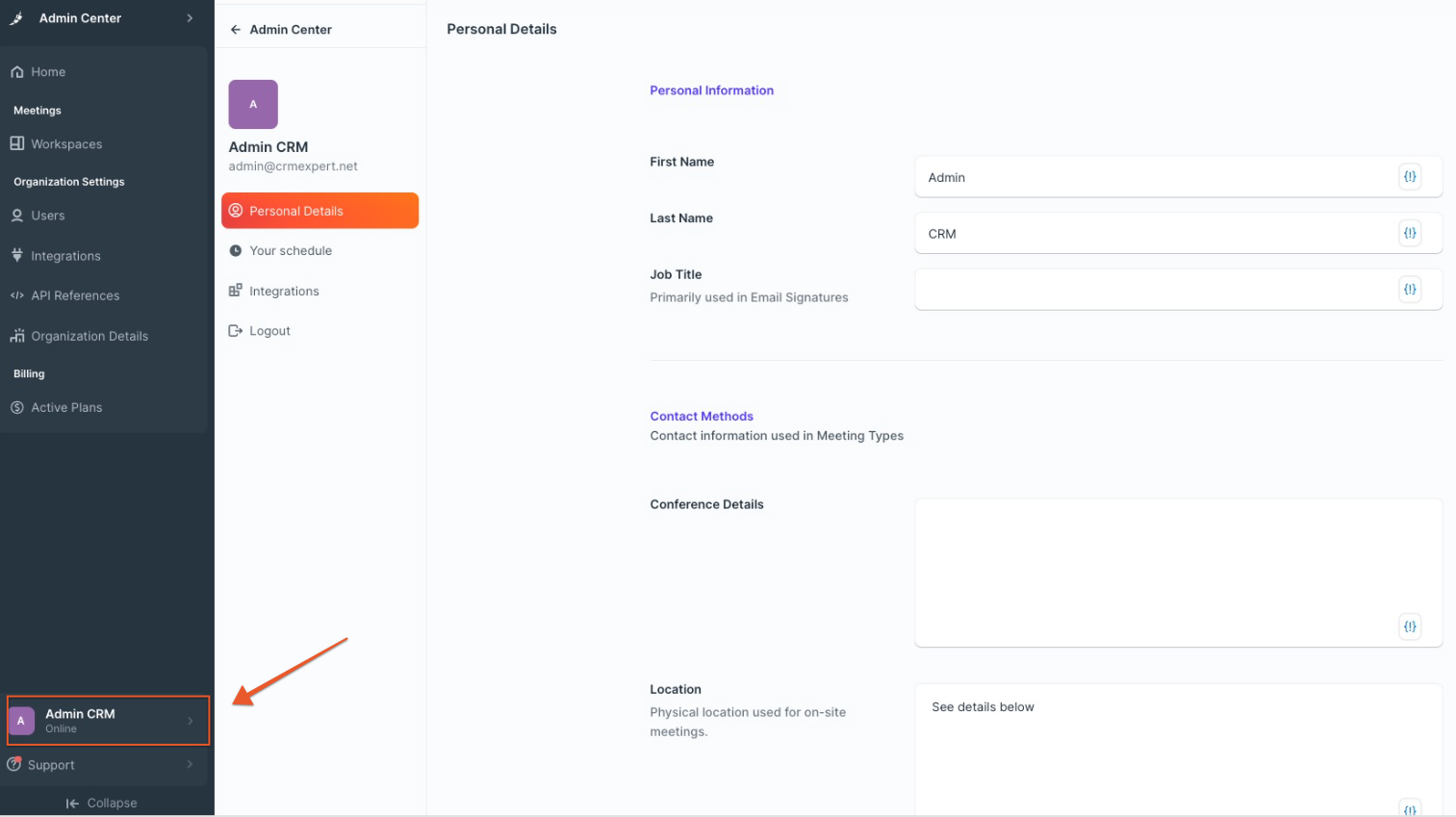 Lower Left Sidebar
On the lower left, we have our customer support resources linked in the left navigation. In this dropdown, you can access our Knowledge Base, Schedule [a] Call with your Customer Success Manager directly, Email Us (our Support team), or Suggest Feature to submit a feature request to our product team. This is the same for every user on your account, admin or not.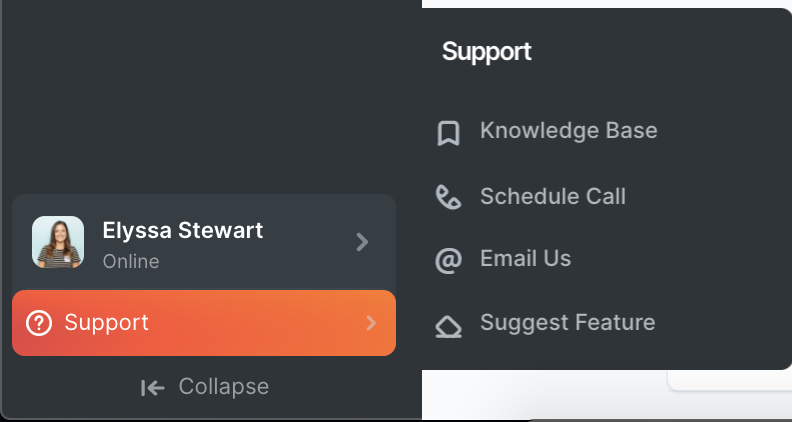 ---
Workspace Management
ℹ️ This section is also available in the video below:
Recently Opened
From Home, you will see the three most recently opened Workspaces with the name of the workspace and the number of active users in this workspace. You can open a workspace by clicking Manage.

Create a Workspace
From Home, choose Manage under the product you would like to add a workspace to. In most cases, this will be Meetings. 
On the top right of your screen you will now see a button to Create workspace
Depending on your plan, one or both of these options will be available to you. Choose the workspace type, name it, and hit Create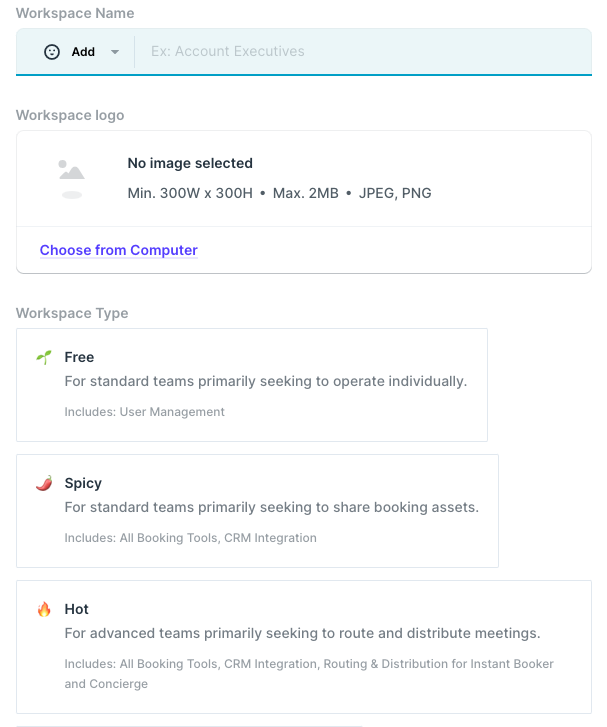 You will now see this workspace included in the list of managed workspaces!
Apps
You'll see your list of purchased Chili Piper Apps here. For account admins, you'll see the full suite of Chili Piper apps. 

As you probably know, every app can have unlimited workspaces, so we wanted to make it easier for admins to better manage them from one screen. You can view all of the workspaces in this app by clicking Manage (above). 
This new list view will let you see all of your workspaces under a particular app, with quick information like the number of users, current status, and active integrations. Account Admins will be able to deactivate or reactivate a workspace from this view or click on the ellipses icon to delete a workspace or edit the name and logo. 
---
User Management
ℹ️ If you'd like to see this section's content in a short video, hit play below!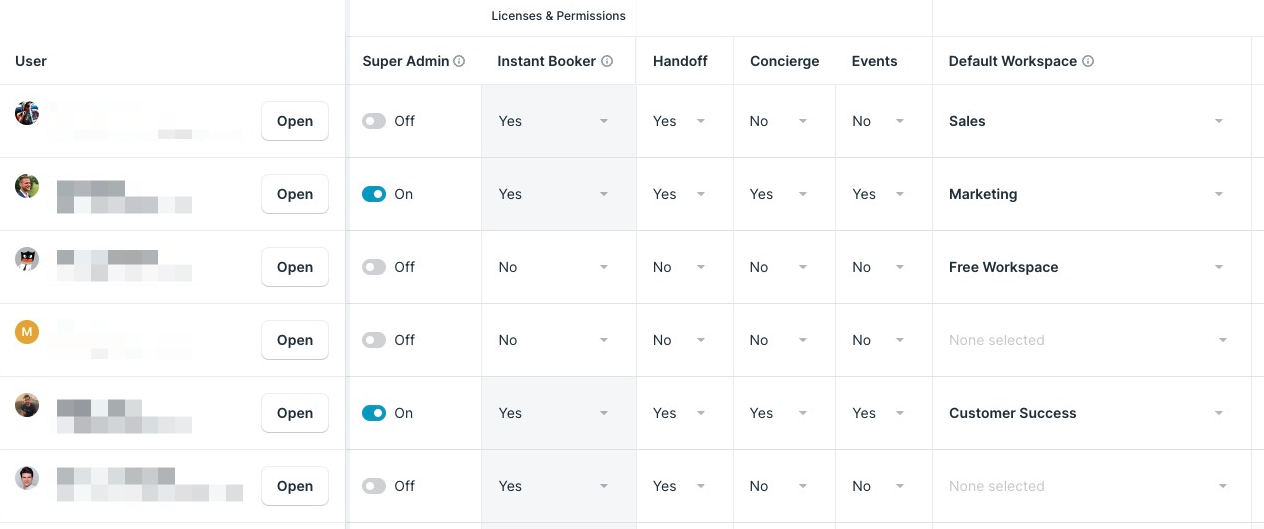 The last section in your Admin Center is Organization Settings, which includes User Management. You can also access User Management at any point from the left sidebar. Here is where Super Admins can:
Enable other Super Admins
Enable/Disable Users across different products
Enable/Disable Users across different workspaces
Download a list of all your active users
---
Integrations
ℹ️ If you'd like to see this section's content in a short video, hit play below!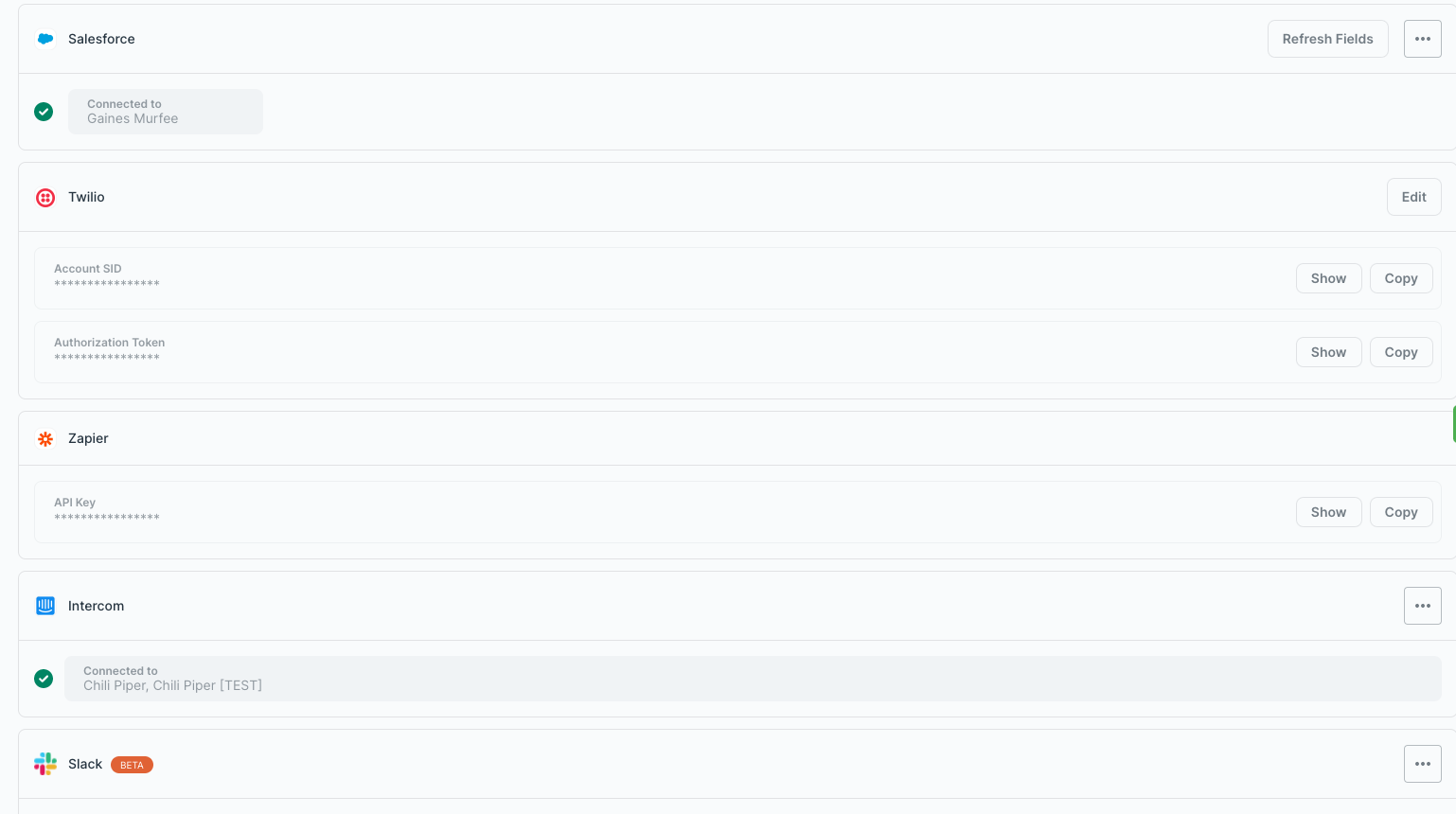 Super Admins can configure and manage global integrations across their entire Chili Piper account. We currently have global integrations for the following apps:
---
API References
API References allows more advanced controls to access our Edge API. Use our API controls to perform bulk actions within our app such as:
Remove a user from all queues
Add multiple users to a queue
Delete a user