Chili Piper provides a couple of ways to create group meetings for your prospects. With group meetings, you can provide a booking link to a prospect that will combine the availability of multiple reps on one calendar.
To create a group meeting, an admin user must follow these steps.
---
Creating a Group Booking Link
For Instant Booker / Handoff workspaces, you can create a Group Booking link as an easy way to provide your prospects with multiple users' availability.
While managing a workspace, click "Booking links"

At the top of this new page, you will see a button to create new group booking links:

You will then select teammates and assign a designated Meeting Type for this link.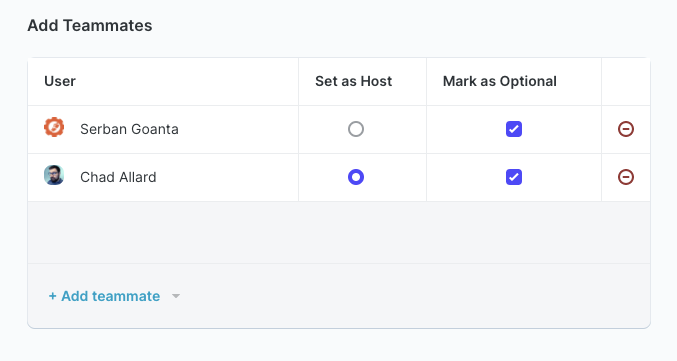 Note that the meeting host will be the rep associated with any "Assignee" tags in the Meeting type or those referring to the host. Likewise, the meeting will be created on this user's calendar by default.
---
Create a Group Meeting Queue
Handoff workspaces have the additional option of creating a Group Meeting. These work very much the same as the above group booking links but provide all of the usual flexibility that comes with Queues.
For example, this type of group meeting allows you to create the events on the Booker's calendar or assign them to multiple Meeting Types.
Navigate to the workspace, Meeting Queues section and click the "Create a new queue" button

Give your new team a name and select Group Meeting as your algorithm:

Activate the users that will be part of the meeting and select your primary assignee:

Meetings are created in the calendar of the Main Assignee (shown as the "Organizer")
You can also specify if presence for some users is optional.

Once you Activate your Queue", you will be able to access the booking in the Queue settings under Online Booking URL