Reports give you direct insights into lead conversions, we'll break down each section below
Monitor your data over time

Choose your Router or leave it as All Concierges and then select your date range (it will default to Last 7 Days)
A - Total form submissions per date range chosen
B - Leads who were considered "Qualified" based on the Rules setup in your Queues
C - Leads who scheduled a meeting or connected via phone call
---
If you have Concierge Calls configured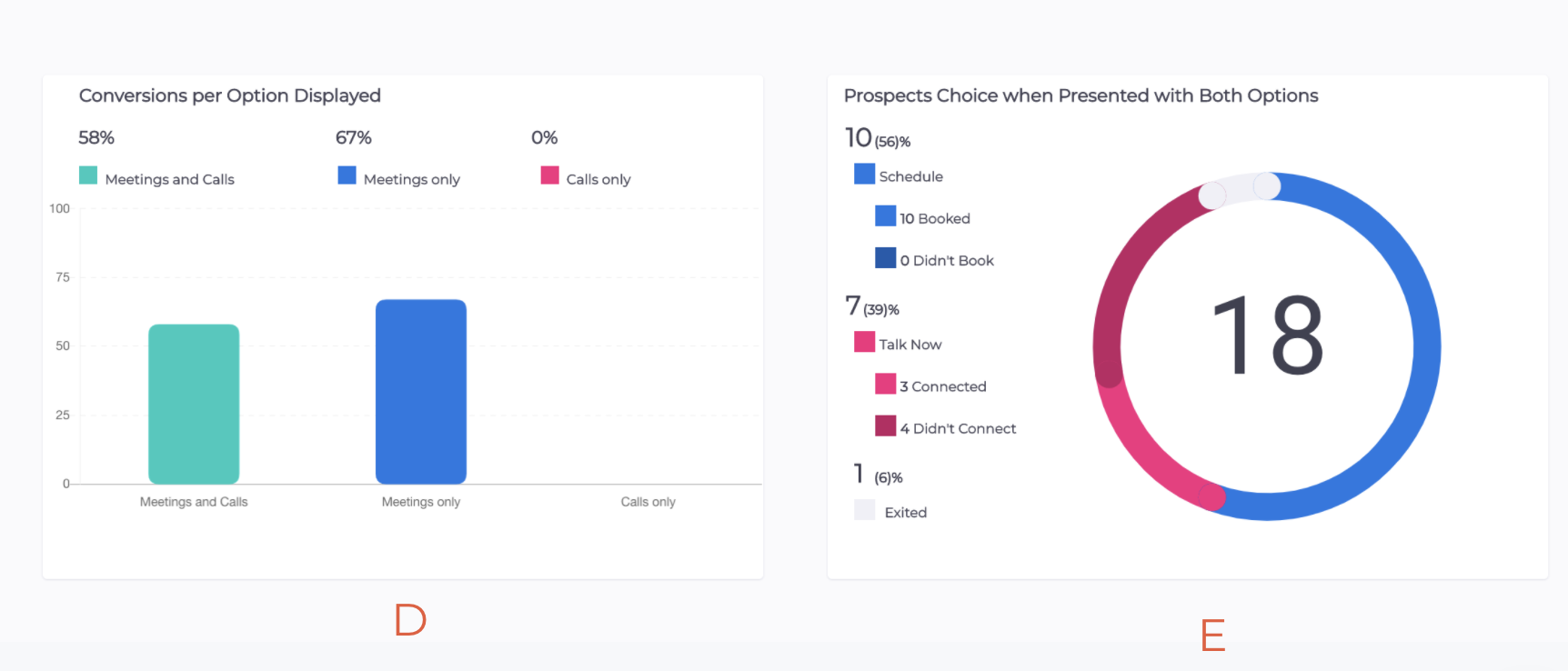 D - A breakdown of your conversion rate for the date range selected
E - A breakdown of the outcome if the prospect was presented with both the option to initiate a call and scheduling a meeting
---
Prospect History

Prospect - Information filled out by the prospect in the form, hover over this and you will see the form data being passed to Chili Piper
---
Options Presented - The queue that was matched to. If a rep was available, phone and/or video will also display as presented options
---
Rep Availability - This will always display as Available unless the prospect fails the queue rules (Disqualified - No Rules Match*)
If it displays "Not Available", there were no available assignees in the queue. Double-check your queue to see if the reps are available within the availability settings in the respective Meeting Type.
---
Outcome - How did the prospect proceed?
Booked meeting: A meeting was booked by the prospect
Call connected or Call not connected: A call was initiated and subsequently connected if both parties answered
No action taken: The calendar was presented to the prospect and they did not proceed with booking a meeting or initiating a call
---
Assignment - How was the rep assigned?
via Ownership: The prospect matched to a queue based on an Ownership Algorithm and was routed to the owner according to the rules
via Manual: The prospect matched to a queue based on a Round Robin Algorithm and was routed accordingly
No distribution - alerted: An email notification was sent to the assigned rep with the prospect's information (this must be enabled, see how)
No distribution: The prospect was not routed and not assigned
Contact - No distribution - alerted: The prospect is an existing contact in Salesforce owned by a user not active in a queue and "re-distribution of existing contacts" is not enabled. An email notification was sent to the contact owner (enable this, see how)
---
*Why was the prospect Disqualified? Here are the most common reasons this could have happened:
The prospect failed the rules and did not match to any queues based on the information they entered
The queue rules may need to be updated (see more, #5)
The form mapping might need to be updated (see more, #5)
The javascript may not be properly embedded (only likely if the script was recently added to a page)