If your Marketo form field names match standard object field names in Salesforce, you can utilize our copy/paste snippet on your Marketo form. Eg: If form fields are "FirstName, LastName, Email", and so forth. If your form fields don't match object field names, you will want to use our JS API instead.
To use the embed snippet:
As an admin, manage your applicable Chili Piper Hot workspace and navigate to Inbound Router. You will want to select your active router from the list.
Scroll to the bottom and copy your embed code, add this to your Marketo Landing Page via a Rich Text Element or add to the <body> of your CMS, below your form code.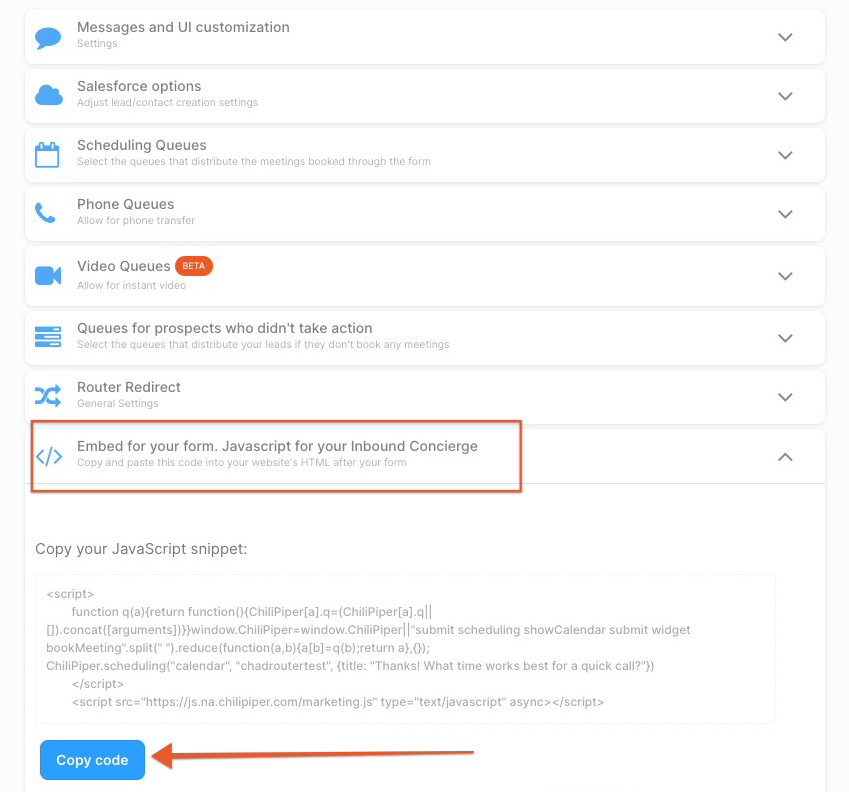 Once you've added the code to your Marketo page, save it, and check to make sure this script is visible on the page:
Navigate to your page

Right-click & select View Page Source

Search in the page for <script src="https://js.chilipiper.com/marketing.js" type="text/javascript"></script>

Your embed should highlight as follows:

If you see it there, you can now run a test!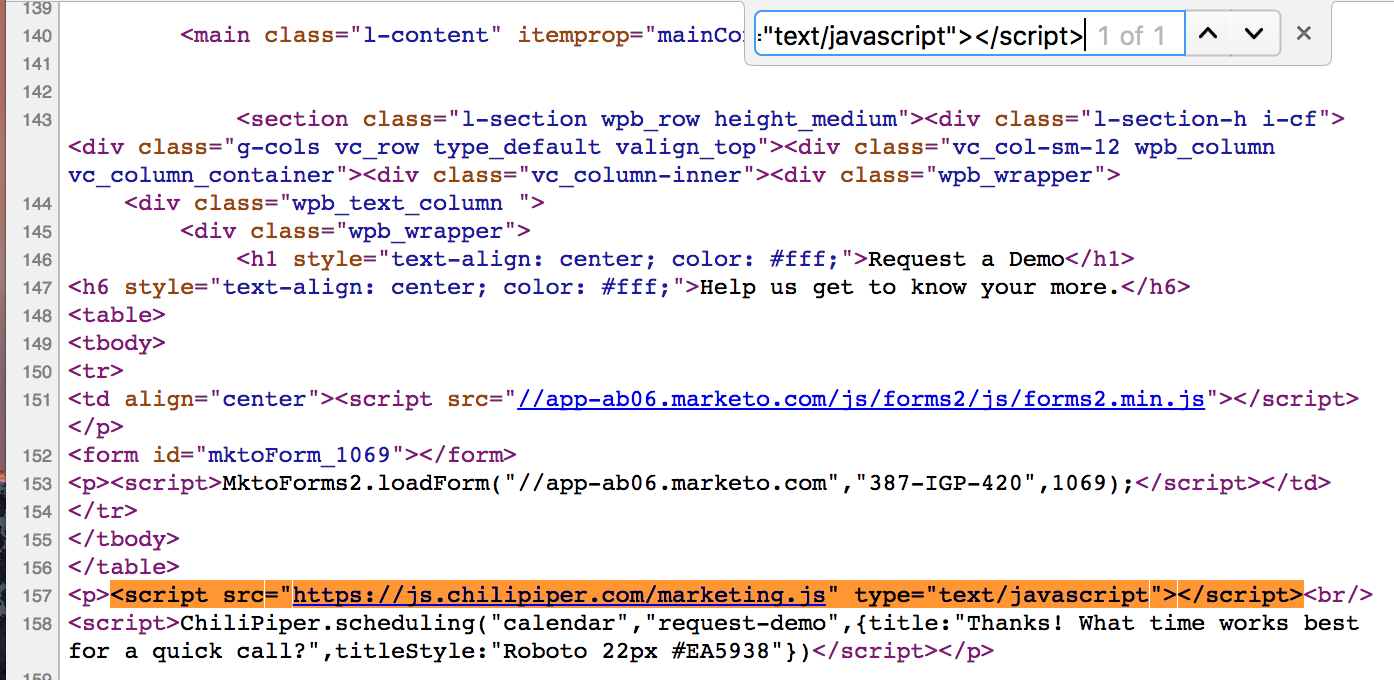 If you have multiple forms on one page, you should leverage our 'formId' option in your javascript snippet to tell the Chili Piper snippet to only execute when that respective form is submitted.
<script src="https://js.chilipiper.com/marketing.js" type="text/javascript"></script>
<script>ChiliPiper.scheduling(yourAccountName, yourRouterName, { formId: "mktoForm_1234"})</script>
In the above example, formId: "mktoForm_1234" is an example. yourAccounName and yourRouterName are respective to your instance of Chili Piper.
To determine your Marketo formId value, go to your page with the form, right click on the form then click "Inspect" and look for the <form> tag and the id value therein, like so: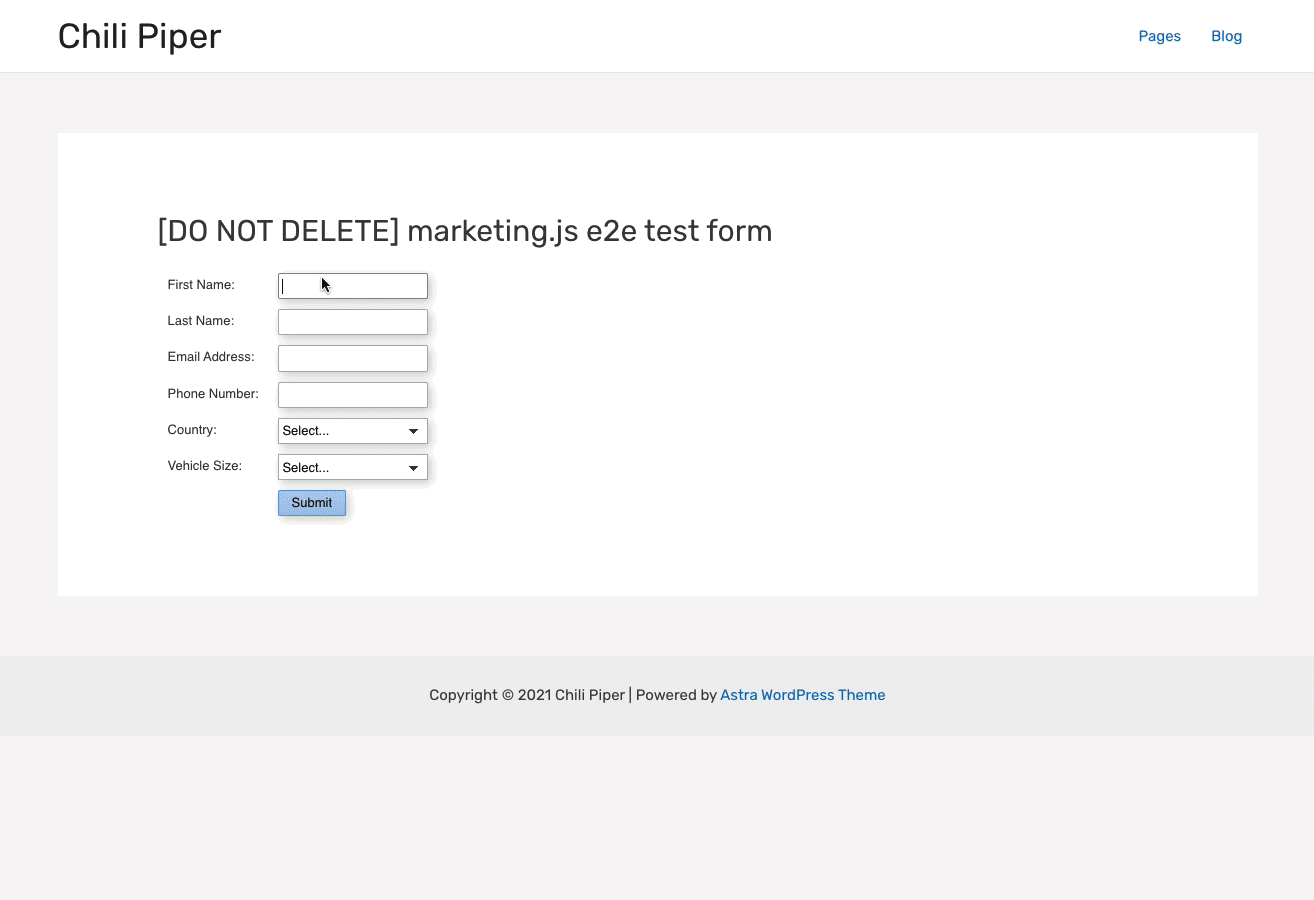 Then replace your formId within your code snippet.
Note: your form fields do not match the standard SF lead object names (meaning you have fields in your form that are custom Fields only in Marketo), you will likely need to leverage our JS API. Read more about implementing this here.