Our Instant Booker allows you to reduce clicks and schedule meetings faster! There is no more back-and-forth to grab scheduling links or insert times - this is all done with one click. You can quickly add teammates as invited guests or offer suggested times for your prospects to book directly in the email.
Faster rescheduling, automated reminders, and one-click booking create better lead conversion.
We integrate with Salesforce, Gmail, Outlook, SalesLoft, and more, so reps can instantly book and schedule an appointment from anywhere!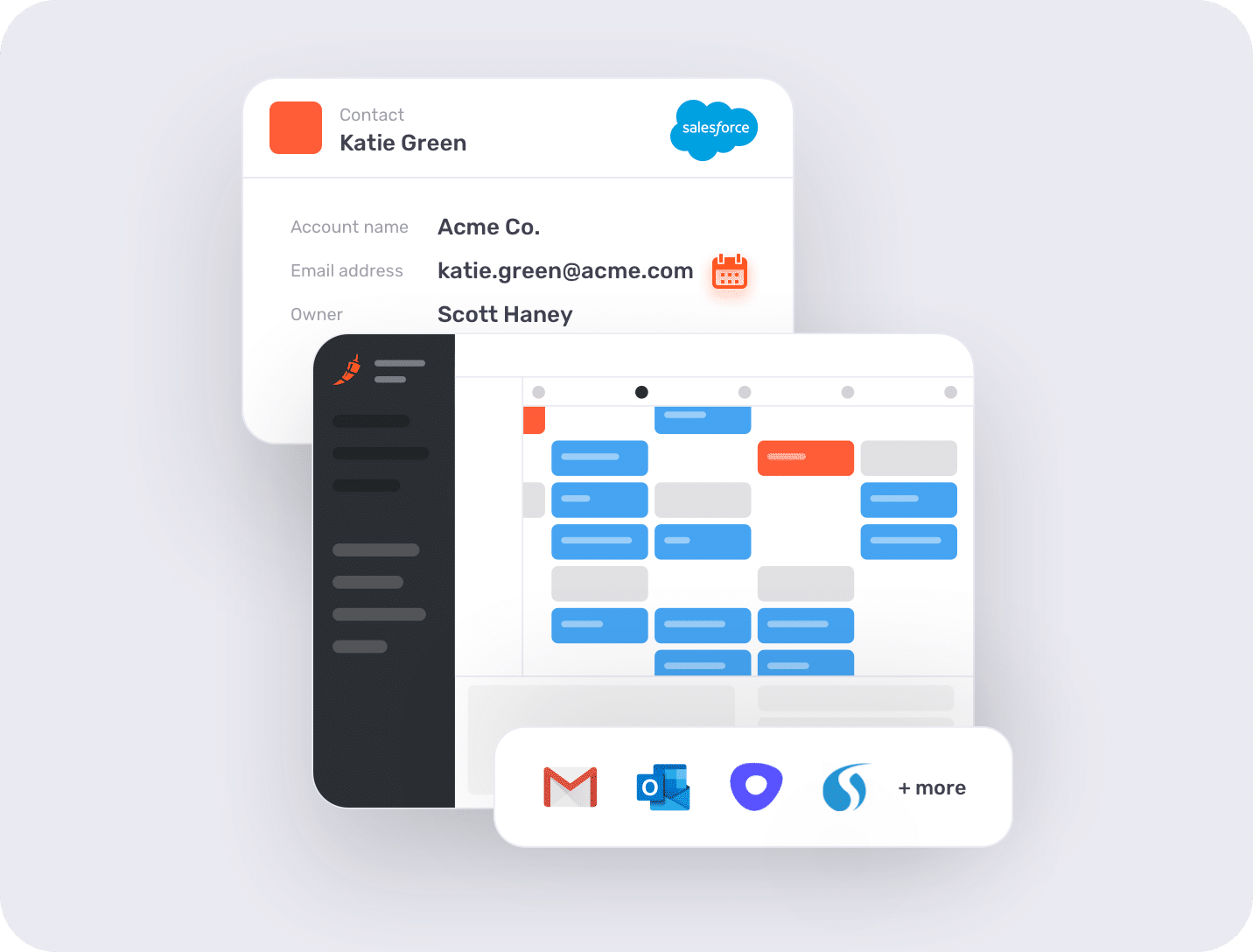 In this article, we cover the following:
---
Installing the Chili Piper plugin
For all users, you will want to install our Chrome Extension. This enables the Instant Booker from within your Chrome browser and in all our app integrations. More info here.
For Office 365 and Outlook users, you will need to install our Outlook add-in here.
---
Where can Instant Booker be found?
Once you have installed the Chili Piper extension, an orange icon will appear automatically within the integrated apps. 
Click the orange calendar icon that appears beside an email address

, or find the Chili Piper logo in-app or on the Chrome browser:

We currently support the following systems:
Hot Handoffs are available in our "Handoff" workspace type only and are denoted by a fire icon:

---
How to use Instant Booker
Setting your default calendar view
You should consider setting your default calendar view within Instant Booker to speed up the booking process. If you book on behalf of others, consider choosing Team Calendar. If you are booking on behalf of yourself, you would likely want to select My Calendar.
These options can be found on the Instant Booker settings page.

Duplicate prospects
If we find duplicate prospects in your CRM, we will display all of them to you and allow you to select the correct one you are booking a meeting with.
Booking on behalf of others
For example, an SDR booking a demo for an Account Executive.
Chili Piper will automatically look up the prospect's email in your CRM and preload the meeting invite details.
If your admin has set up queues with routing rules, we will use the prospect's data to determine which Queue the meeting should be booked into and automatically tell you who the Assignee is.
In this example, the prospect matched the "Company Size 251-1k" Queue, and the rep, Cioaba, is the next in line to receive a meeting, as denoted by the star icon next to their name.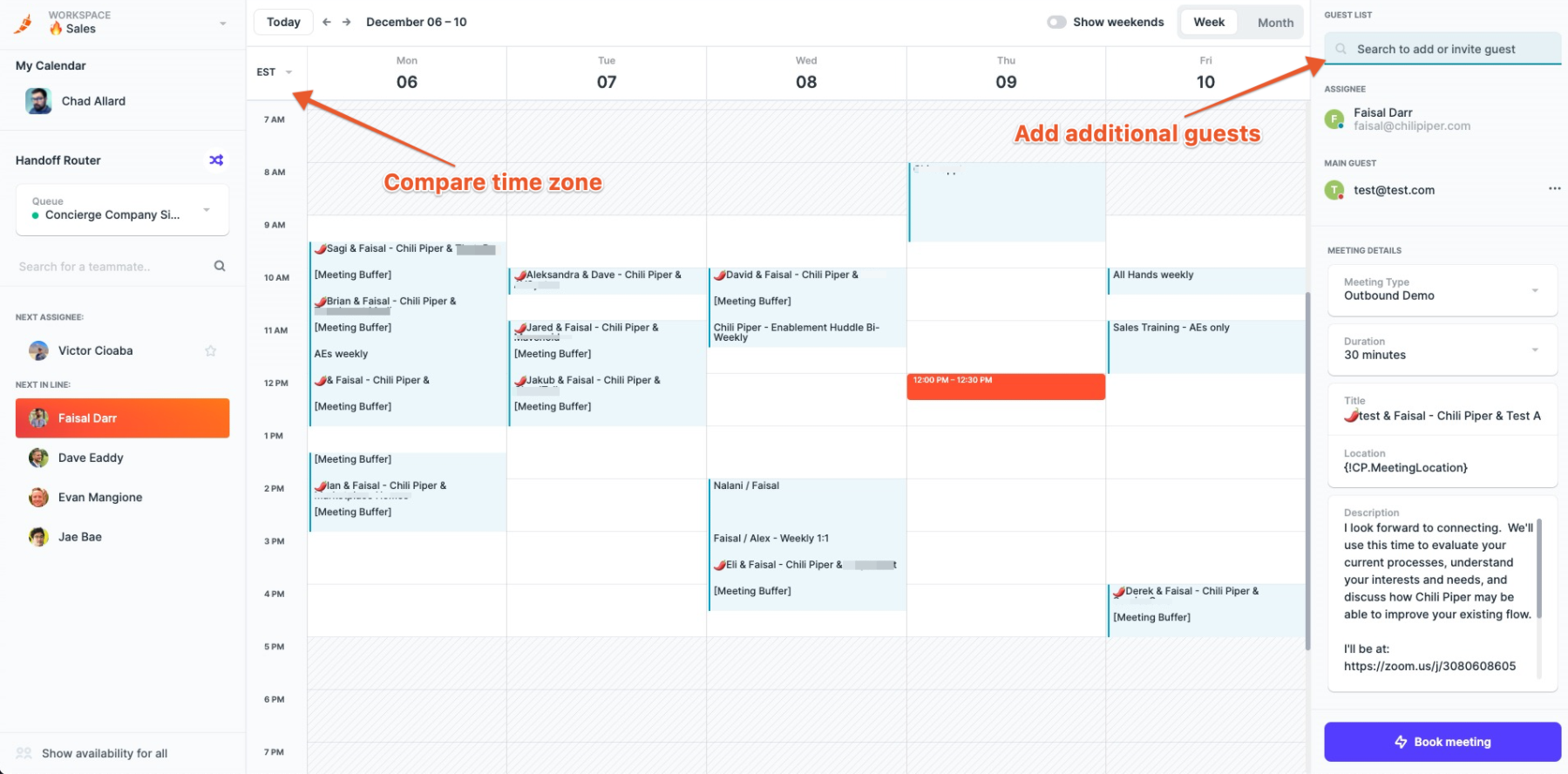 When booking on behalf of someone, you may want to compare the timezone to the one they work out of. In those cases, your own timezone (set by your Computer's local time, not the Chili Piper setting) will be displayed along with theirs: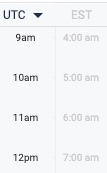 The Meeting Type and Duration have been pre-set by your admin and the Assignee's conference details.
If your admin enabled the Round Robin to be Strict, you'll notice the Assigned rep cannot be skipped. Sometimes in this scenario, you might need to schedule something soon, and Assignee's calendar is booked up for the next few days.
To find additional times, choose Availability for all to blindly find a time for a different rep.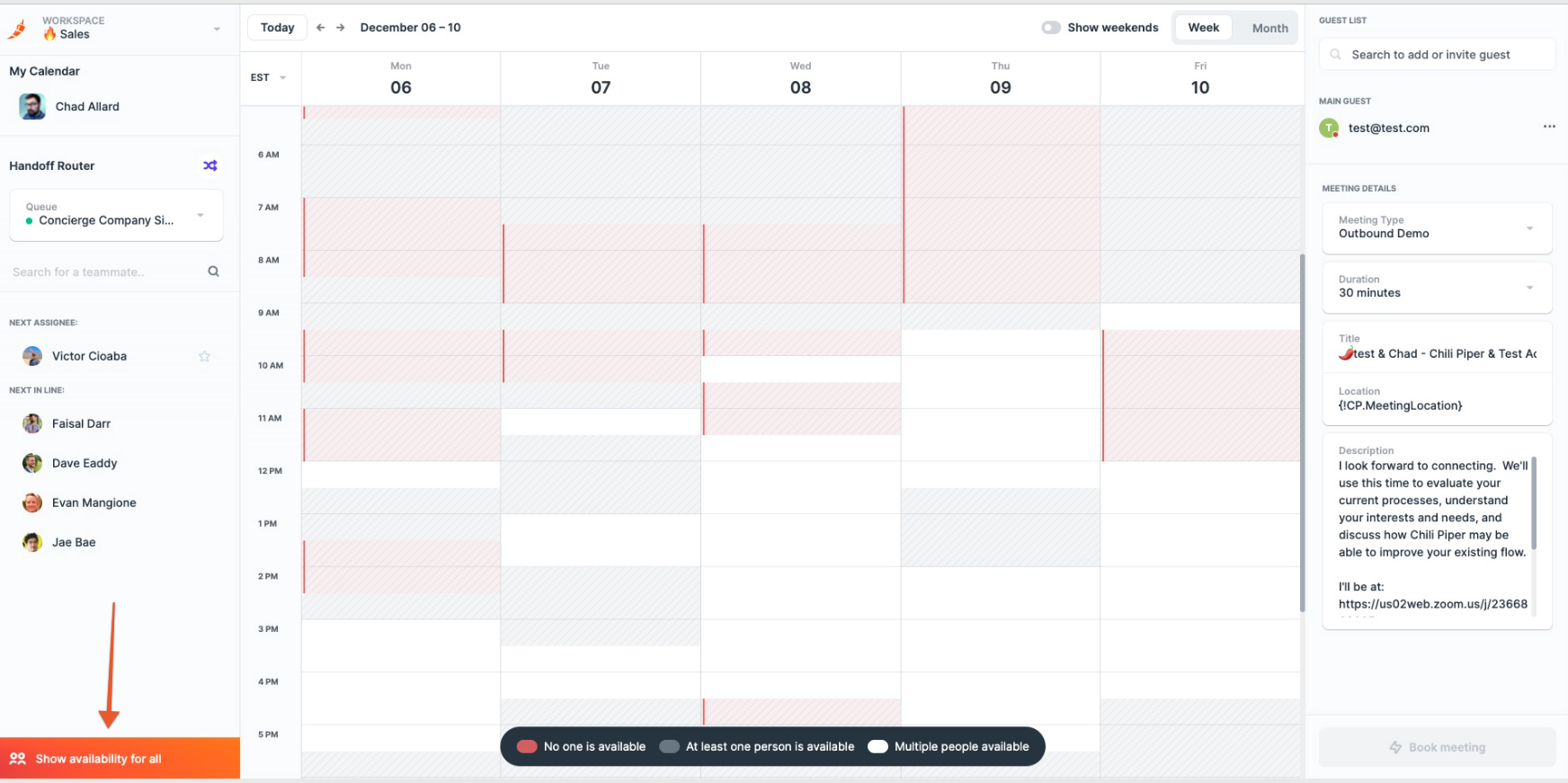 Red: No one is available at that time
Grey: Some reps are available
White: All reps in the queue are available
Pick a time slot and Book Meeting - done!
Note: This feature is not compatible with the Suggested Times in Gmail or Outlook because the Assignee's Conference Details need to be known in advance
Book a meeting for yourself
You can have Instant Booker default to your personal calendar upon opening it by configuring your Calendar Settings to "Book meetings for mostly self"
If it is not set to this automatically, you can click My Calendar at the top to switch to it.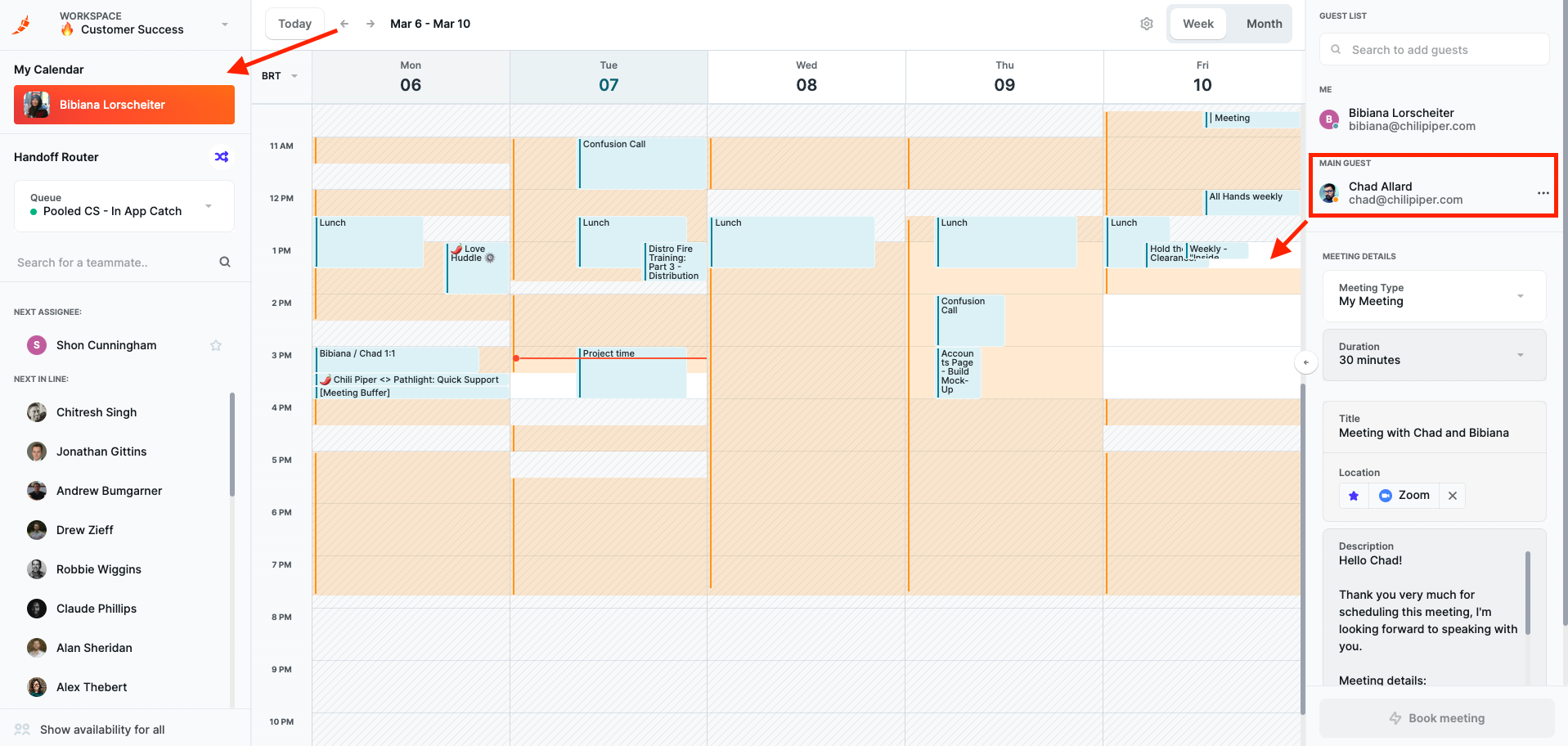 Your own personal calendar will always show events in blue. Any internal users added to the invite (such as Chad in the example above) will display their availability in yellow.
Pick a time and Book the Meeting!
Note: You can edit the default template here under Meeting Settings in your personal settings
Show / Hide weekends
Instant Booker can show/hide weekends in the UI so that you can focus on the weekdays, especially if you don't intend to book on weekends. If you do want to view weekends, simply click the toggle button:

This will not disable weekends from getting booked and is a visual option only. To block out weekends, you must ensure these are turned off during your working hours or otherwise blocked by a busy block.
---
Overriding a User's Schedule
There may be instances where a booker must override an assignee's schedule when a meeting needs to be urgently booked as an exception to the rules. In these cases, we allow bookers to book outside of an assignee's working hours and can even override their meeting cap. We will display a warning and confirmation in this workflow to ensure the Booker makes the correct decision.
For example, selecting a time outside of working hours:

If the Booker clicks "Book Meeting," we will then confirm it: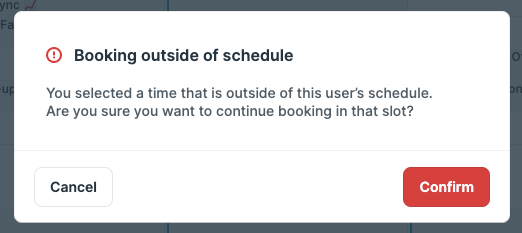 In the above case where a meeting cap is reached, we will show which meeting type the limit was reached on in case a different meeting type should instead be used.
If the Booker clicks "Book Meeting," we will then confirm it: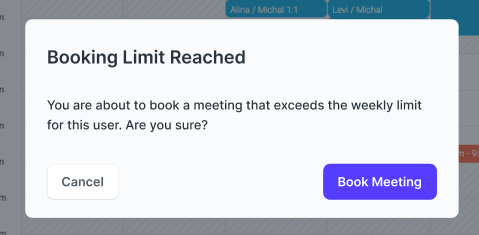 ---
Additional features
Instant Booker offers many other features not covered here. For more information, see the following articles: