In this article, we'll review how time zones are determined in various booking flows, and what options you and your prospects have for manually selecting these.
---
How Chili Piper determines your time zone
Chili Piper will automatically detect your time zone based upon your connected Calendar's time zone preferences. Your personal working hours schedule, Custom Schedules, and the time you see when opening Instant Booker will be displayed in your local time zone.

Note: If this time zone is not displayed correctly, please review your Google Calendar or Office 365 calendar settings to ensure the correct time zone is selected. If this is still displaying incorrectly, consider reconnecting your Calendar under integrations.
You can also manually select the time zone in your schedule settings.
---
Editing your time zone settings
By default, we will sync your time zone to your calendar, but perhaps you're traveling or working in a time zone that doesn't reflect regular hours in your region. You may want to manually change the time zone in Chili Piper without adjusting your Calendar.
To do this, open your schedule settings and "Set manually":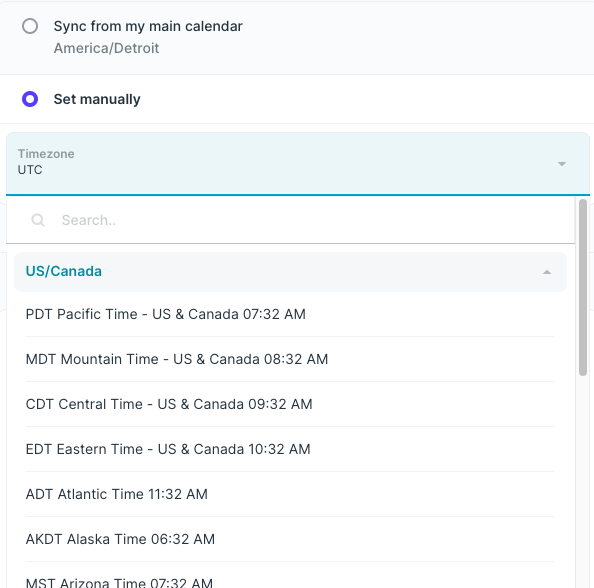 The selected time zone will impact the working hours you have set on the same page. This directly impacts your availability, so be sure to coordinate the proper availability if you make any time zone changes.
For Admins: You can choose whether to respect this time zone setting or set your own within each workspace Meeting Type:

---
How your prospect's time zone is determined
When your prospect is looking at your booking link, the time zone will be automatically detected based on their local computer or mobile device's time zone - specifically, what their Internet browser populates as their time zone.
The time zone is displayed above the available time slots as their local region, with the local time displayed.
If the prospect selects this, they can expand a dropdown on the booking page and select a different region/time zone.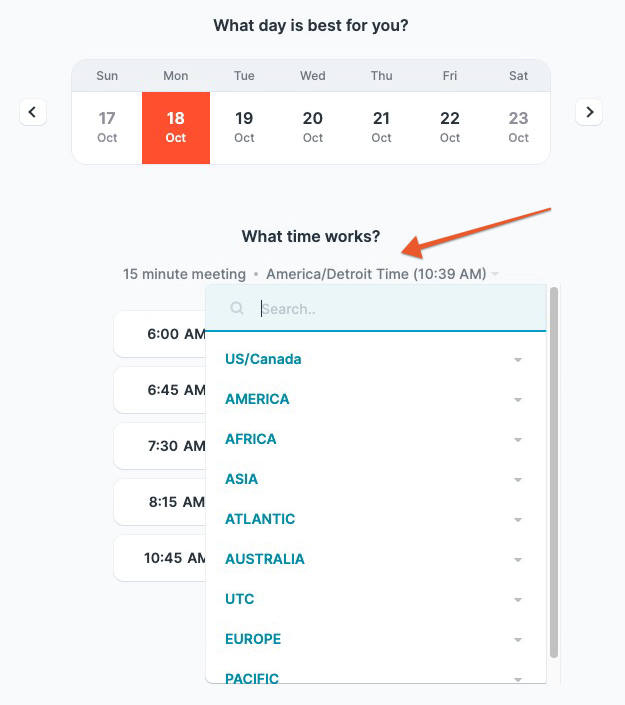 Chili Piper will automatically adjust the time zone based on the local region, including daylight savings time shifts.
---
Time zones within Instant Booker
If you are booking on behalf of a prospect, or if you want to keep your colleague's local time in mind when viewing their availability in Instant Booker, you can adjust this in a couple of places.
Intermediary screen
When booking on behalf of a prospect, you will be presented by an Intermediary screen. On this screen, you can select the time zone you wish to display on the calendar while booking. This should be the prospect's local time zone.
This time zone is not automatically populated and will need to be provided based upon your prospect's region.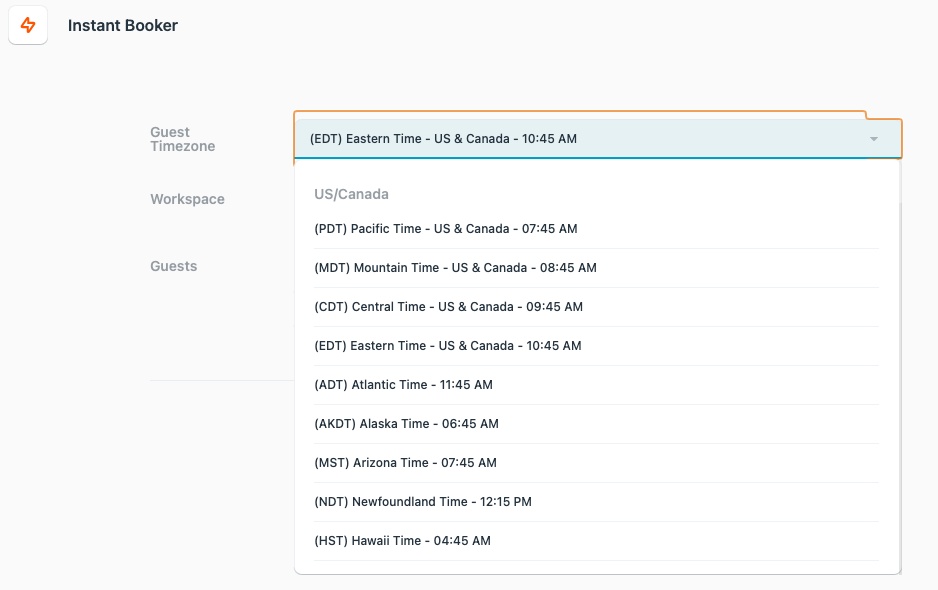 In the resulting calendar, both the prospect's time zone and your time zone will be listed together so that you can quickly do a time conversion.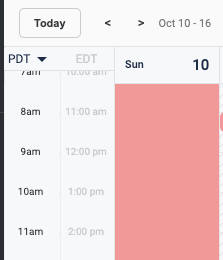 Note that you can also click the small arrow beside the prospect's time zone on the calendar view to select their time zone, in case you forgot to do this in the previous step or need to make an adjustment.
For more on using Instant Booker, take a look at this article.
---
Time zones and suggested times
The time zone you select in that previous step within the Instant Booker will be the time zone that we display to the prospect when suggesting times in an email.
For example, if I had selected PDT from the intermediary screen or calendar view when adding suggested times, this gets changed in the resulting email.
One-click booking is supported in Google, Outlook, and several other integrations.