Okta single sign-on (SSO) offers a secure way for you to access Chili Piper. This eliminates weak password use and reduces the need to remember passwords. If you or your company uses Okta, you may be wondering how to get it to work with Chili Piper.
In this article, we will walk through:
---
What do I need to do before I set up Okta?
Before you can begin integrating Okta with Chili Piper, you must contact your customer service rep to enable this integration. You will be unable to proceed further until it has been enabled.
---
How do I set up Okta for Chili Piper?
First, you will need to log into Chili Piper and navigate the Admin Center. Select Integrations, then scroll down to "Identity Provider" and select "Add."

In a new tab, go to Okta, navigate to "Applications, " and select "Create a new app integration." Select "SAML 2.0"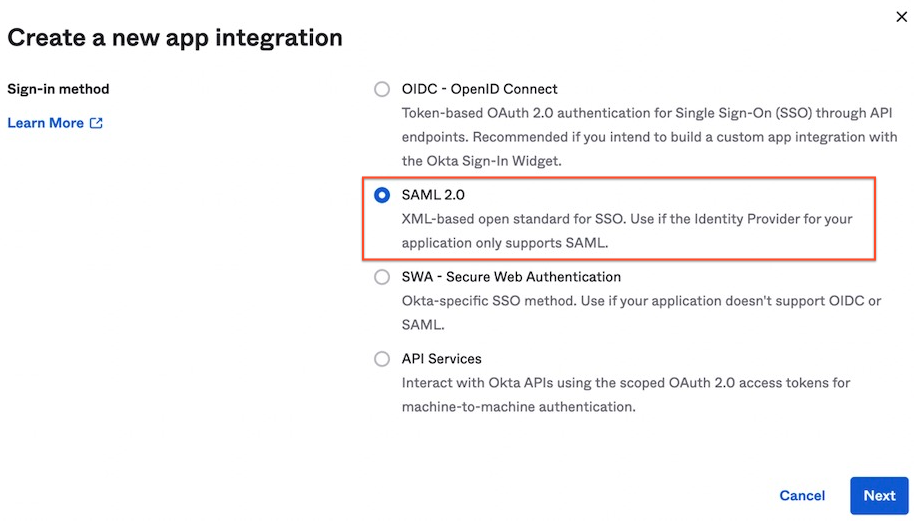 You will need to choose a name for the app.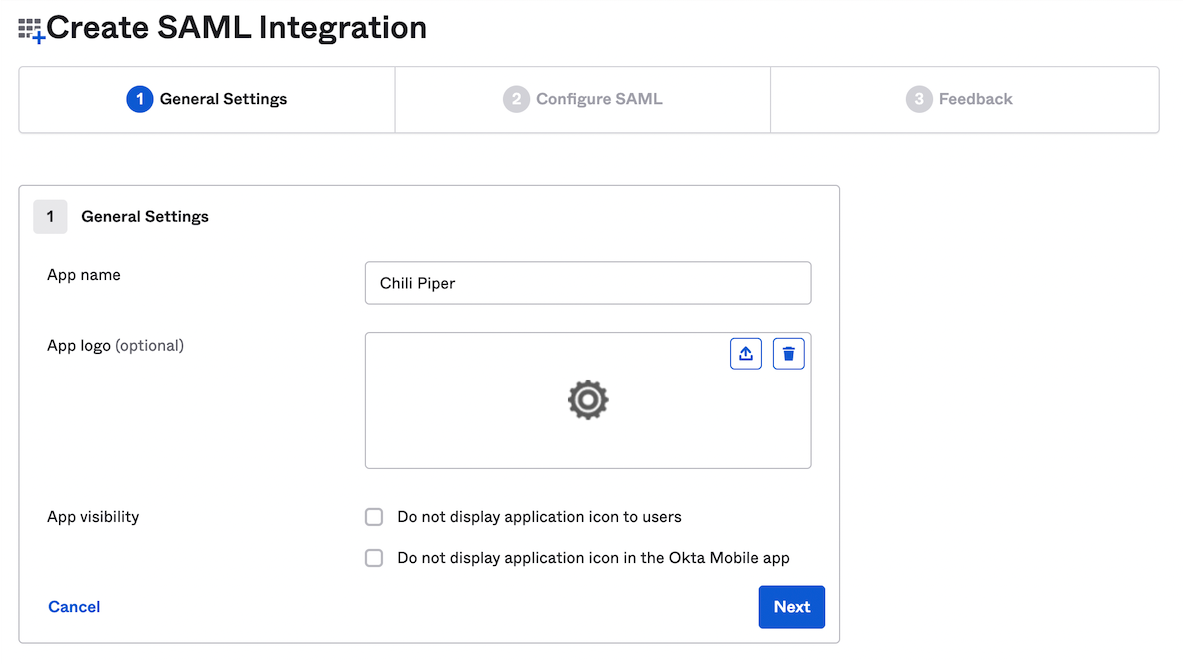 Return to Chili Piper, and copy the "Sign In URL." In Okta, paste this into "Single sign on URL." In "Audience URI (SP Entity ID)," enter:
chilipiper.com
Name ID format and Application Username should be set to Email.
Now we will need to copy information from Okta and bring it to Chili Piper. Click "View Setup Instructions" in Okta.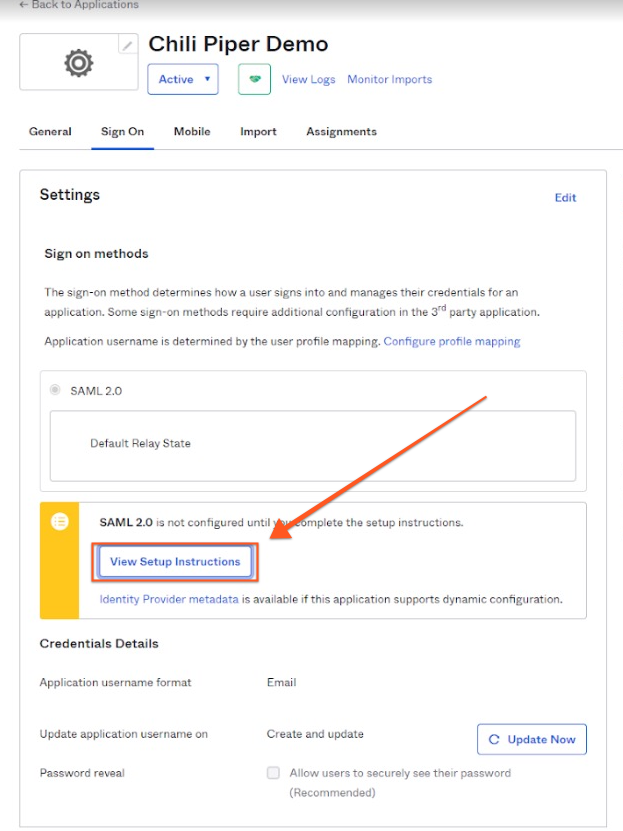 You will need to copy the following from Okta and paste it into Chili Piper:
Identity Provider SSO
Identity Provider Issuer (this will go into the field "Identity Provider Id" in Chili Piper).
Download the certificate provided by Okta and upload it to Chili Piper. In Okta, in the "Assignments" tab, assign users to the Okta app. Back in Chili Piper, "Save" and "Activate."
Uncheck "Deflate" in Chili Piper.

Next, we will move on to SCIM provisioning. In Okta, in our Chili Piper app, navigate to the "General" tab and enable "SCIM provisioning." Now, head to the "Provisioning" tab. Copy the "SCIM connector base URL" from Chili Piper and paste it into the Okta app.
In the "Unique identifier field for users," type " email. Under this, select "Push New Users," "Push Profile Updates," and "Push Groups." "Authentication Mode" should be set to "HTTP Header."
Now we will select "Test Connector Configuration."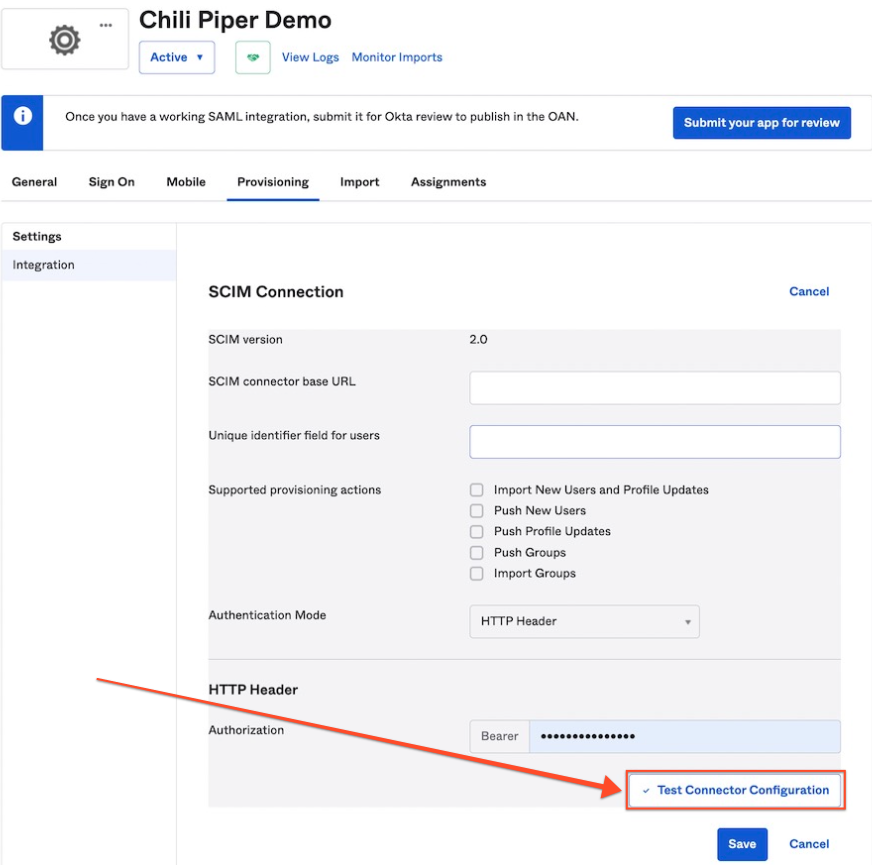 In "Provisioning to App," enable "Create Users," "Update User Attributes," and "Deactivate Users," and click "Save."
And that's it! If you experience any issues with setting up Okta for Chili Piper, please contact your CSM.