In some cases, we may provide a local (downloaded) copy of our Chrome Extension in order to provide you with additional features, critical updates, or bug fixes.

Important
This article is only relevant to users who have been provided a local (zip) copy of the extension to use in critical situations. If you do not have a local copy to install, this will not be relevant to you. Most users are advised to install the copy from the Chrome web store instead.

Local installs are meant to be temporary. They are not updated and can create issues down the road if you do not ultimately update to the Chrome web store version. Please reach out to our Dept. Customer Love for further support on this or if you have any questions.
---
Install Steps
Follow these steps to install:
1. Download the Chili Piper Chrome Extension zip provided by our Dept. Customer Love.
2. Within Chrome click on the puzzle (extension) icon and click manage extensions: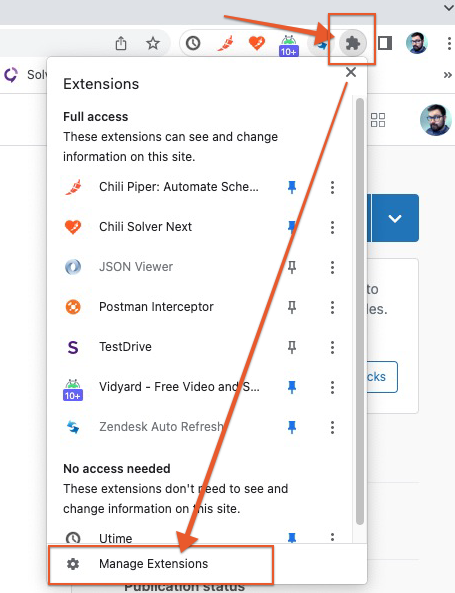 3. If you have an older version of the Chrome Extension installed, please disable it for now.
4. In the top right of that page, enable developer mode:
5. On your desktop, extract the Chrome Extension zip. The location doesn't matter, but please remember where you have extracted it.
6. New buttons will appear when you toggle the developer mode on. Click "Load Unpacked"
7. Browse to the location where you extracted that zip file and open.
A new extension will appear in your browser, and you will be able to use the Chrome Extension locally.
---
Uninstall Steps
1. Within Chrome click on the puzzle (extension) icon and click manage extensions: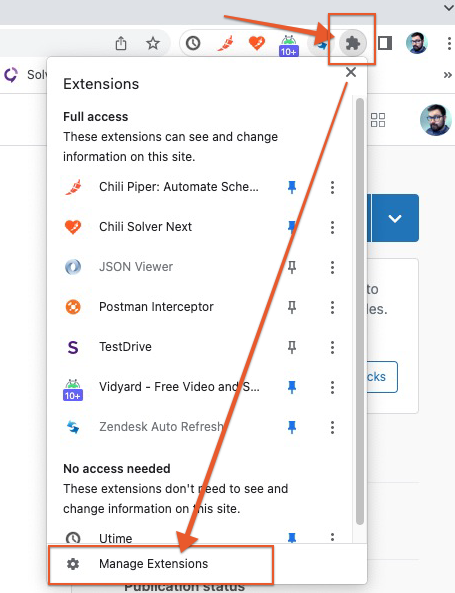 2. Click "Remove" beside the unpacked Chrome Extension for Chili Piper. To make this easy, you can go ahead and remove any Chili Piper extensions you see listed.
3. (Optional) Re-download the latest extension from the Chrome Store. You can find a link to our latest extension here.