If you are using Chili Piper's Concierge and have a paid G2 plan then Chili Piper's integration with G2 allows you to optimize your G2 profile for conversions! Easily qualify and convert prospects into meetings directly on your G2 profile. Connect Chili Piper to your product profile's CTA button and enable software buyers to schedule a meeting with your team.
Increase your leads collected from G2, and automate the handoff process from marketing leads to sales meetings.
---
How G2 Integration Works
When a prospect browses to your product page, they will see a "Request a Demo" button they can click.

When they click this option, they will be presented with a simple web form.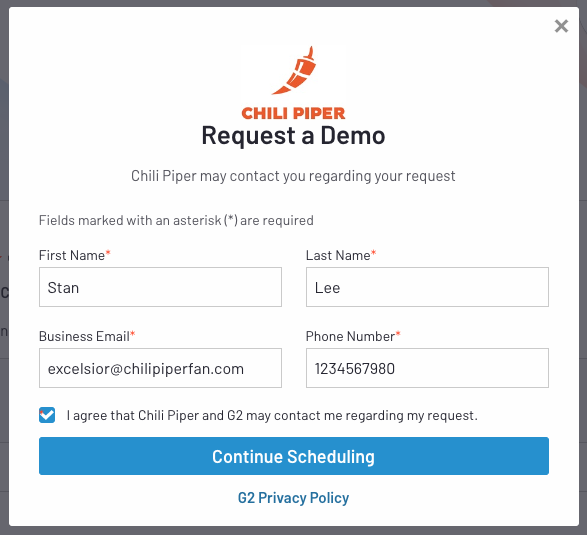 Upon clicking the "Continue Scheduling" option, the Chili Piper calendar will appear!
This will have routed to the appropriate assignee's calendar given the router's options.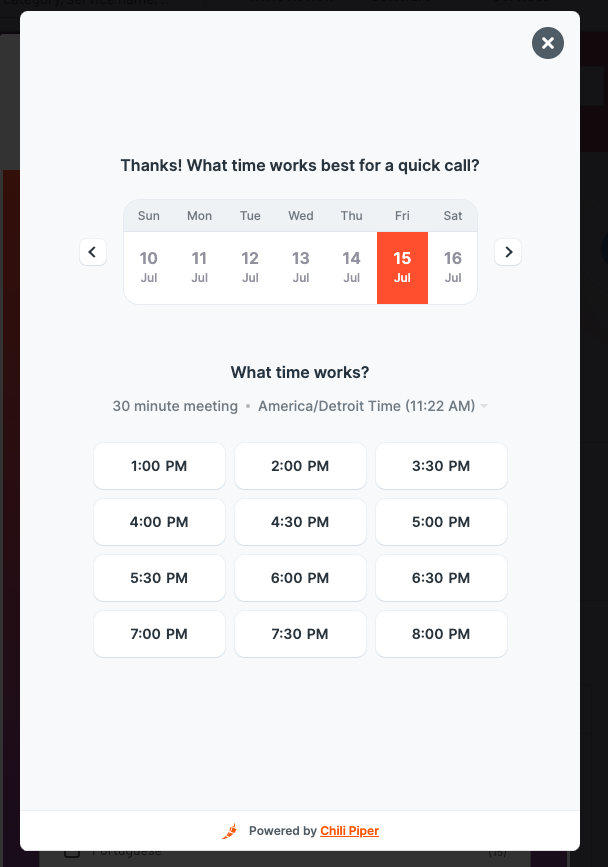 ---
Integration Installation
You can easily install the Chili Piper integration in G2 by following these steps:
Within Chili Piper
1. Within your Handoff workspace, browse to your Inbound Router that you want connected to G2. Do any initial configuration needed.

Create a Unique G2 Router
We strongly recommend creating a new separate router specifically for G2. This allows for much easier reporting and tracking within Chili Piper and your CRM.
2. Expand the "Embed for your form" section under the router settings, and here you will find your domain (1) and router name (2):


3. Make sure to take note of these two values as you will need them later!
4. Ensure your web form is properly mapped.
Within G2
1. Browse to "Product Admin" section and edit your product.
2. From the product menu, browse to your Integration Hub:

3. Within the hub, search for "Chili Piper" and click on the resulting option: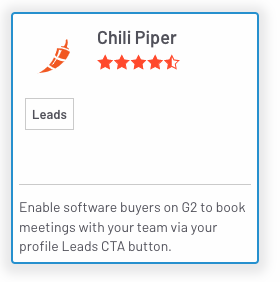 4. Fill out the Chili Piper information from step 2 in the Chili Piper section above, then click save, e.g.:

If you receive an error stating "Options Router is not valid" or "Options Domain is not valid", please double check that the name of your domain or router is correct. Refer to step 2 within Chili Piper above.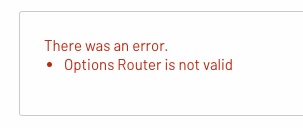 You will only be able to save once the Domain and Router names are both valid.
Please note - if you have only one Call-To-Action (CTA), any custom CTA you input here will not show. One CTA will be set to the G2 default, which is "Request a Demo".
That's it! You should now see Chili Piper connected