In each workspace, you will find CRM Actions where we can adjust what happens within the CRM when a meeting is booked.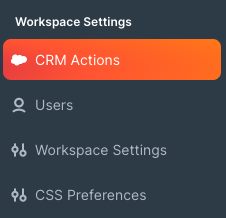 In the CRM Actions -> Events / Engagements dialog, we can set which object to relate those newly created meetings to.
In Salesforce: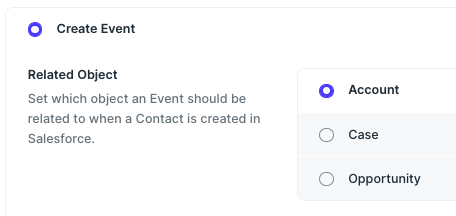 In HubSpot CRM: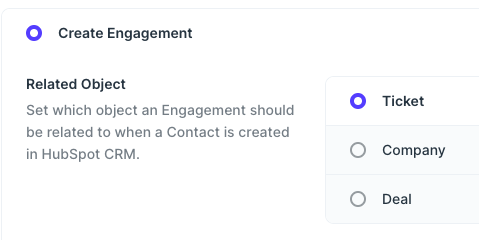 When this option is selected, reps can choose which object to relate a specific meeting to right from the Instant Booker or via Suggested Time. When an option is selected, the meeting will be automatically written to the activity history on the associated object (case, ticket, opportunity, etc.).
Note: By default, the most recently created Case OR the Opportunity with the nearest Close Date associated to the Account related to the "Main guest" will populate. Clicking the dropdown will allow you to view all open cases or opportunities.
Benefits:
Opportunity / Deal (Sales)

AE's no longer have to add Contact Rules to associate meetings with an Opportunity or Deal
Sales Management can track and monitor all meetings related to an Opportunity or Deal

Case / Ticket (CS, Support)

Saved time by populating Meeting Types directly using Case or Ticket specific Dynamic Tags to reference things like ticket number
Increased visibility on meetings associated with specific cases
Support reps can help customers by providing personalized booking links that will associate with a case when the meeting is booked
---
Relating Individual Meeting Types to Objects
Within the CRM Actions dialog, you can specify to set the object relation per Meeting Type. This allows you the flexibility of associating different types of meetings with different types of objects in your CRM.
Selecting "Don't create event' will likewise not relate it to any object.

---
Next up, train your Users: