Uh oh! You just received an email from us with a subject line containing SFDC API Error and need to figure out the source of this error right away. This often happens during the testing phase of a new onboarding or if changes are recently made to your SFDC instance if you have been a long-time customer.
Not to worry, we got you covered in this doc on how to troubleshoot 😎
First, check the top part of the email for the statusCode, which can be found here: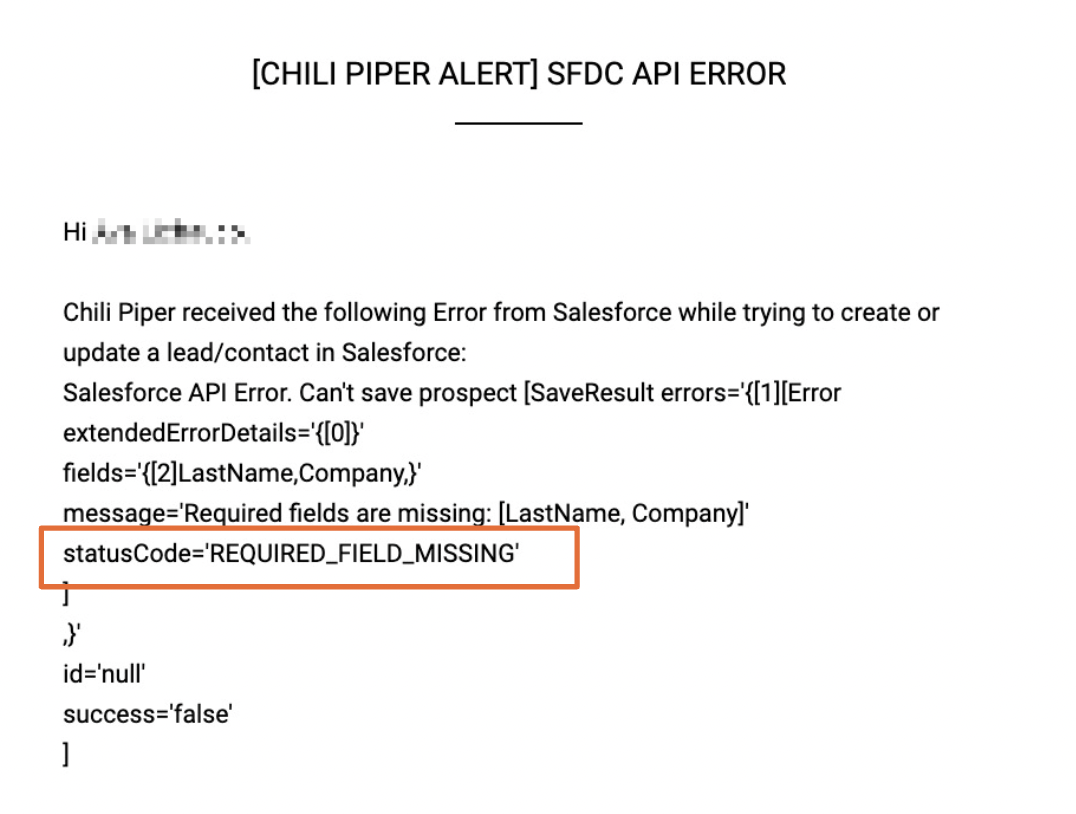 Look for the matching one below to jump to the relevant section:
---
statusCode='DUPLICATES_DETECTED'
This error was sent because Chili Piper attempted to update a Lead or Contact record but there was an existing record with a matching email so Salesforce threw us an error. You might be asking, if Chili Piper was only attempting to update the Salesforce record and not create a duplicate, why would we get this error?
Chili Piper will not create a duplicate; if there is an existing record match we will always update the existing. However, the error tells us that your instance has some de-duplication rule or logic implemented by your Salesforce admin which also impacts our ability to update records:
duplicateRule='Standard_Lead_

Duplicate_Rule'
The impact of this
message='You're creating a duplicate record. We recommend you use an existing record instead.'
You will want to create some logic to disable this rule for records that are updated by Chili Piper
---
statusCode='REQUIRED_FIELD_ MISSING'
Chili Piper creates Leads and/or Contacts when set by your CRM Actions or Router settings to do so.
If we attempt to create a record in Salesforce but your Salesforce instance has certain fields required for which we did not receive data for, then we will fail to create the record and send this error.
You can see which fields are required on the message line:
message='Required fields are missing: [LastName, Company]'
If you have one or more required fields missing, consider updating these fields as not required or updating your website form or Chili Piper Guest Forms to include this data to ensure it is always submitted.
---
statusCode='INVALID_OR_NULL_FOR_RESTRICTED_PICKLIST'
This scenario is most common when updating records that came through your Concierge flow and you have Chili Piper ON to create the Lead/Contact under Salesforce Options. Since we update Salesforce with data received directly from your form, if your form picklist values do not match what is in Salesforce, we will send an error. This only occurs if your SFDC picklist is restricted.
You can see which field and value threw the error in the message line:
message='Number of Employees: bad value for restricted picklist field: 10,000+'
The solution would be to either update the picklist to make it not restricted or make the form and SFDC picklist values consistent.
---
statusCode='FIELD_CUSTOM_VALIDATION_EXCEPTION'
You may have a custom validation rule that is not met when we attempt to create or update a record. If so, we will send this API error letting you know that this validation rule prevented us from saving the record in SFDC.
In the body of the error, look at the field line to see which field and rule caused this error:
fields='{[1]Salesperson__c,}'





message='Salesperson is a required field.'